This Bluetooth Speaker Is Only $28 -- & Over 13k People Love It
Turn the party up anywhere you may go with this portable speaker.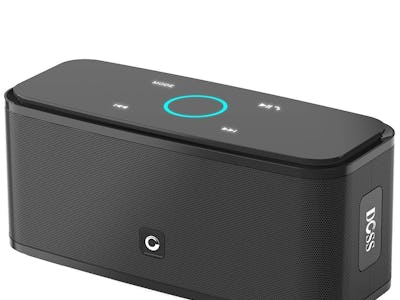 Amazon
Nothing changes the mood of a room quite like a song. Play the perfect one, and it can incite a joyous, drunken sing-a-long. It has the power to bring back a wave of nostalgia, or even set the mood for a special someone. The point being, music and social events are like peanut butter and jelly: Great on their own, but better together.
With This Bluetooth Speaker, You Can Control the Vibe of Any Room Wherever You May Go.
This sleek speaker has a nearly perfect score on Amazon, which can only mean that the low price indicates nothing negative about the quality. The speaker itself is an easy-touch control, making turning the volume up and switch tracks a breeze. It is also compatible with your mobile device, and will listen to phone-commands such as skipping a track or increasing the volume. Most importantly, the speaker has a long battery life and guarantees 12 hours of play.
But don't take our word for it. Literally over 13,000 people reviewed this speaker and gave is a 4.4 out of 5 stars — which is pretty incredible for such a cheap speaker.
User "Kevin" raved:
"What a wonderful speaker! First off, the packaging it comes with is very nice and it comes with a micro USB charging cable, an AUX cord, and a waterproof protective sleeve for the speaker! As for the sound quality, beyond superb. The built-in sub-woofer gives amazing bass for how much and how big the speaker is. The battery life is very long and it doesn't take too long to charge. Another thing I really like about this speaker is the fact that the volume control is touch-controlled rather than just buttons."
Others also noted that the speaker is SD card compatible, which is perfect for anyone uncomfortable with hooking their phone up to speaker.
Now, feel free to get the party started by adding this to your list of "essentials" ASAP.