Best Items on Amazon to Organize Small Spaces
Small spaces require furniture that packs a lot of punch in a small footprint.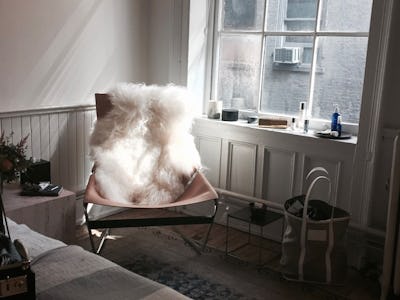 unsplash
It's moving into late summer and that can only mean one thing. Dorm rooms will soon be buzzing with excitement as college students everywhere begin to set up shop. Everyone busy settling in and looking for clever ways to make their dorm rooms feel cozy and homey. While it's tempting to throw caution to the wind and buy a ton of stuff, it's also important to keep in mind that dorm rooms have a finite amount of space I (also looking at you NY and LA apartments). When square footage is scant, the trick is to look for dual-purpose items that maximize your space.
Convenience Concepts Storage Ottoman
In case, you were wondering there is no such thing as too much storage. Multi-purpose storage ottomans should be the first item on your checklist for small spaces. They provide space to store away — well anything and they double as seating when your friends stop by for a party — err… study session.
When you don't have an abundance of square footage it's important to use every available bit you have, that includes what's under your bed. The Sorbus under bed organizer allows you to do just that. Easy-grip handles allow quick access, the clear cover allows you to see what's inside without needless rummaging and if the need arises the organizers are also stackable.
Neu Home Over the Door Hanging Storage Unit
You might quickly find that the space limitations in your dorm or apartment leave you nowhere to go but up. Neu Home hanging door organizer can work on any door. A quick solution to storage issues it frees up precious space, and there's no installation required.
Stick on bedside shelves give you the convenience of a nightstand with taking up a ton of precious floor space in your room. The Easy Eco Life Bedside Shelf is a wall-mounted self-adhesive self perfect for cell phones, glasses, and other small items you need to have close by.
micoe Height Adjustable Sofa Side Table
The micoe Height Adjustable with Wheels Sofa Side Table should be on your shortlist of must-have items that pack a lot of punch in your small space. Although it's called a sofa side table it's really multi-purpose. The micoe table can serve as a mobile dining table or a desk when you need one. It's also on wheels so it can go wherever you go.