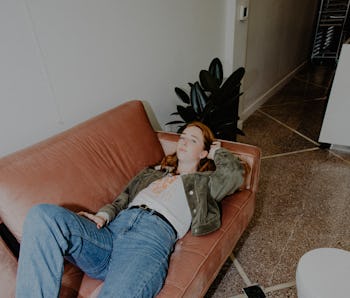 Culture
These Amazing Products From Burrow Prove They've Got More to Offer Than Couches
From the company that brought you the "couch-in-a-box," these are their other amazing offerings.
Unsplash / Parker Whitson
You may have heard of Burrow before. You may have gotten targeted ads on Instagram for one of their many beautifully designed sofas. You may have helped a friend assemble one of their mail-order couches. Regardless, Burrow has built a name for themselves off their offering of stylish sofas that ship to your doorstep in conveniently packaged boxes that don't require you to measure the doorways to placate anxiety of whether or not it will actually fit. But that's not what this is about.
To go with your new—or exisiting—couch, Burrow has dropped a line of decor touches that offer added delightful warmth, style and intrigue to your space. It snuck up on you, I know, but you're an adult now and you buy things like accent pillows and throw blankets. Below are my favorite—not furniture—items that Burrow has to offer.
Their Bundles
Why We Picked It: If you don't pride yourself on having a developed sense of style, don't throw in the towel. Instead invest in this curated set of Burrow's most stylized decor offerings. If you already have pillow inserts that are working for you, you can purchase this set without the pillow inserts and just offer for the covers and the throw. These special touches will be sure to add necessary homeyness to your space. Not into this particular set? Burrow offers similar bundles in different styles.
Their Throws
Why We Picked It: Burrow offers their Essential Throw blanket in 3 colors and this rich navy blanket is by far my favorite. Why? In a house where boys, pets and coffee spills happen on or near the couch, a light colored blanket isn't going to cut it. The rich navy blue colorway feels both neutral and elevated and at 40 x 70 inches, most throw blankets aren't this big.
Their Pillows
Why We Picked It: This pillow is my personal favorite because I can succinctly describe my style as a delicate mix of contrasting textures and fabrics. Because of that, I frequently bring leather into my decor choices and sustainably sourced faux leather is always a great way to get the look I want without the ethical implications. Burrow's approach to selling pillows is great because they allow you to opt just for the cover if you already have existing pillow inserts that you like. Not into this one? They have a wide variety of styles, fabrics and lumbar pillows perfect for any style.