5 Under the Radar Headphones You Should Consider
These headphones compete with the big dogs at a fraction of the price.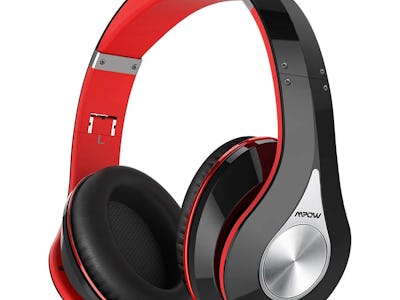 Amazon
Headphones are a purchase that can be heavily researched, though only the big names like Bose and Sony are given high praise when there are several options that are perfectly serviceable for your needs. Some of these headphones may come from brands you've never heard of and some are so low in price that it would be easy to assume that they're poorly made. Below, we're going to show you some great under the radar headphones that are every bit worth your time as the big names.
COWIN E7 Active Noise Cancelling Headphones
Even with the Sony 1000XM3 headphones holding the noise-cancelling crown, a $350 budget for headphones is simply out of the question for many. Enter the Cowin E7, a perfectly adequate, insanely affordable pair of active noise canceling headphones.
This pair of cans has most of the big features found in much more expensive headphones, like NFC pairing, folding design, deep bass, and a 30+ hour battery life. While they lack fast charging, it's hard not to forgive them, especially when you see the price tag.
Mpow Bluetooth Headphones
If you're looking for a solid pair of headphones that are highly affordable and offer up a unique, futuristic design, the Mpow 059 Bluetooth Headphones certainly fit the bill. While they don't offer active noise canceling, the noise isolation is adequate for most needs.
These headphones offer a 20 hour battery life, which is more than enough for a pair at this price range. What they do offer that's impressive to see is fast charging, allowing you to get two hours of playback in a quick 10-minute charge session.
TOZO T10 Bluetooth 5.0 Wireless Earbuds
Apple set off a chain reaction (as it usually does) when it released the AirPods, and the market is now flooded with "true wireless" earbuds. Luckily, the AirPods, for as fantastic as they are, aren't the biggest advancement in the space, nor do they have to be. Apple created a great pair of headphones and will continue to improve them as they go forward, but that also leaves room for the competition to fill in the gaps.
The TOZO T10 Bluetooth earbuds look nothing like AirPods, but offer great features that you won't find on Apple's offerings. The Bluetooth 5.0 buds offer crisp, Hi-Fi sound, and thanks to its IPX8 water resistance rating, can be used at the gym without worry. Another thing to consider: You can buy four pairs of these headphones for the price of the new pair of AirPods with wireless charging case. Oh, and these earbuds also come with a wireless charging case.
TBI Pro Bluetooth Headphones
While water resistance in headphones is being added more often, it doesn't always translate into a great experience for working out. In-ear earbuds can fallout, which is the last thing you want when you're at the gym or on a jog. That's why a sports-focused pair of headphones are really the best for this use case and the TBI Pro's Bluetooth Headphones prove just that.
The around-the-ear design of the TBI Pro headphones ensure that they won't be falling off in the middle of an intense workout, which is something not all headphones can promise. Even then, these headphones offer so much more that a good fit. Boasting an insane 12+ hour battery life, Bluetooth 5.0 for a stable connection, and IPX7 water resistance make these headphones a fantastic option without costing an arm and a leg.
TaoTronics Active Noise Cancelling Headphones
Looking for a no BS pair of headphones? TaoTronics is here for you. These active noise cancelling headphones boast enough features to make people with can that cost twice as much question their purchase decisions.
Featuring a foldable design for easy stowing, and powerful bass, these ANC headphones seem like they're worth more than they actually are. With a 30 hour battery life, they can really go the distance, with the likes of the Bose QC 35 II mustering only 20 hours of playback. Sure, you won't find features like fast charging or NFC pairing, but what the TaoTronics headphones do, they do right.