These Amazing Dude Skincare Products From Mythical Are Deep Discounted--Including Peanut Butter Lip Balm
Peanut butter and peppermint the flavor combo you didn't know you were missing.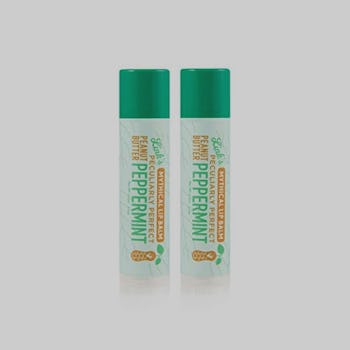 amazon
Mythical is the new collaborative grooming line between YouTube stars and comedians Rhett and Link and Beard and Lady. The namesake of their product line is their show Good Mythical Morning that has been running since 2012. Many of their segments employ the use of food in some way shape or form. So it's really no surprise that their mythical grooming line features items like peanut butter lip balm, but there's so much more.
Your hair is your crowning glory so you should always give it a little extra love. Mythical Pomade delivers medium hold, matte finish, and no crunch hold. This pomade is great for all hair types and made with quality ingredients that are great for hair health, like jojoba and argan oil. Mythical pomade has a creamy consistency and promises all-day staying power.
Rhett's Beard Oil is one bottle that tackles the litany of concerns that tend to accompany your beard. Rhett's beard oil locks in moisture to curb skin irritation and dandruff. Made with oils and notes of sandalwood, and citrus Rhett's beard oil leaves your beard feeling soft and smelling fresh.
Peanut Butter And Peppermint Lip Balm? What the what? Sounds strange but the end result is an amazing moisturizing lip balm that nourishes and hydrates with no harsh chemicals. Sold as a pack of two, take note of the unique tubes as well, they're oval-shaped to fit flat in your pocket.
Another unique flavor combination of cedarwood and blackberries made by Mystical: Wild Wood 'N' Berries Lip Balm hydrates and protects dry lips in a lip balm that shows both your hard and soft side.
With Mythical No. 9 Fragrance, you'll be happy when your fragrance walks in the room before you do. No. 9 is a unisex fragrance, scented with tree bark, blood orange, amber resin, and patchouli. Beautiful packaging makes this one look great sitting out on your counter too.