Jewel Is Alive and Well and 'Picking Up the Pieces'
The Alaskan folk-pop sensation's career persists, 20 years after her breakthrough.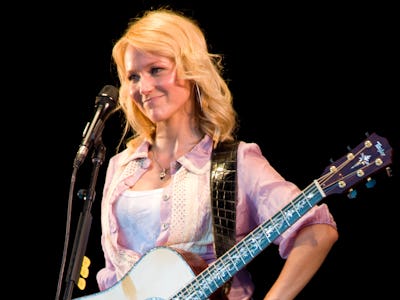 Do you ever worry about Jewel? Do you ever wistfully recall her heyday while digging through some old cassettes? Don't get too sad: Jewel Kilcher — the Alaskan-raised singer-songwriter — is still with us and active. Her new album arrives in two weeks.
When was the last time you came across Jewel? Perhaps you saw her on a reality show or two; maybe you caught her as June Carter in a Lifetime Channel original movie or singing to kids on the Disney channel. Maybe you hadn't thought much about her for almost 20 years, when she first made her greatest impact, circa the time of the Lilith Fair craze, with her 1995 album Pieces of Me.
The sound of her first couple of albums fell somewhere between the most mournful tones of Alanis Morissette and Paula Cole and the lighter exports like Lisa Loeb. At that time, it was a very marketable balance.
She made an overt bid for capital-P pop at the turn of the millennium after trends turned away from dourer coffeehouse tones (see for instance, soft-rock radio standard "Standing Still"). Her following three albums all scored Top 30 singles, and culminated in 2003 with the release of her most daring costume change yet, 0304. This was essentially a dance-pop album, which led off with the surprising Shakira-esque "Intuition" single and helped Jewel score the highest charting album of her career.
Jewel seemed to view the album as an experiment in making subversively erudite, "smart" pop music, though to many critics and fans, it simply sounded like less committed Britney or Kylie. "Intuition" has a weirdly self-reflexive bent, parodying patterns of pop culture consumerism and the machinations of the record industry from within — and an outlandish, tongue-in-cheek video to match.
Jewel backtracked back to comfortable folk-pop territory on her following album, Goodbye Alice in Wonderland, which dropped into relative obscurity after a modestly successful single. Future Jewel ventures would take her solidly into the realm of Dixie Chicks-esque/Emmylou Harris-like country-pop, where she would gain consistent success on the C&W charts with considerably more nondescript music than she had ever turned in before.
Amidst this, there were film soundtrack contributions, two children's albums (released by Fisher-Price), a holiday album, and appearances on Dancing with the Stars and The Voice. A few years ago, she recorded a Babyface-produced duet with Tyrese, for the Transformers 2 soundtrack. It was a liminal, confusing time; anything seemed possible.
Jewel's first album of all original material in five years is coming on September 11th from Sugar Hill Records (an indie label specializing in folk and bluegrass). Nearly half of the record is said to consist of new versions of stripped-down material from the '90s she never recorded. The lead single, an acoustic duet with Dolly Parton, is one of these songs — a live favorite for years. It finds both vocalists competing to deliver the most tremulous, emotive cache and locking into some attractive close harmony on the choruses.
"Your Father's Daughter" is not quite "Who Will Save Your Soul?" but Picking Up the Pieces – down to the implied Pieces of Me connection in its title — may be at least something of a return to soul-bearing form. At worst, a lackluster attempt to revive a twenty-year-old brand through some clever packaging. Jewel fans should rise from their slumber and hit iTunes next Friday morning to find out which.