A Year After "The Fappening," Privacy Is Still at a Premium
We are all Jennifer Lawrence now.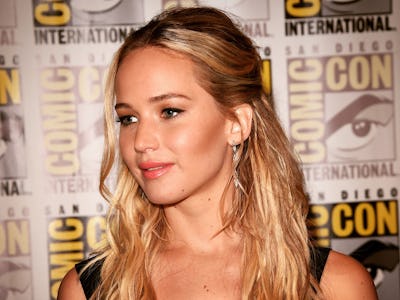 We just hit the one-year anniversary of the Fappening, the crudely named nude photo leak of 2014. At this time last year, creeps of the internet were scrambling to save every last Jennifer Lawrence, Kate Upton, and RiRi nude before they were inevitably taken down from Reddit and 4chan. Public outrage about Apple's lack of security, our perverse invasions into celebrity life, and the inherent misogyny of internet culture was quick and severe. A year later, have we learned anything?
In light of security breaches like the recent Ashley Madison leak and the KeyRaider attack on 225,000 Apple accounts, it's pretty obvious that we're still pretty fucking terrible at protecting our privacy.
Problem is, there still isn't much we can do when it comes to online privacy. Even the authorities themselves are helpless. An investigation into the photo leak showed that hackers used brute force hacking — essentially trial-and-error onslaughts at guessing passwords and security questions — to obtain the private photos. There was a call to slap Apple with a lawsuit, but all the company managed was an admission that hacking was "a practice that has become all too common on the internet." Two-step verification, save us all. It took until June of this year for authorities to even think they found the hackers in Chicago. No updates have followed.
There's no question Apple's working its ass off to keep us at a baseline level of security, but ultimately, there's nothing the average phone user can do except come up with better passwords and maybe get back to sending nudes the old-fashioned way: on badly lit Polaroids that we keep in a shoebox under the bed, off-labeled "HAWAII 2013." We've learned helplessness at the hands of hackers. Rather than getting savvier, we're just getting better at shrugging everything off.
Even the Ashley Madison security debacle isn't going to stop future cheaters from seeking out affairs online. Sexts are gonna get sexted. Dirty snaps will be dirrrty snapped. As realist Mat Honan conceded over at Wired, no matter how much we strive for privacy, our nudes and dick pics will all inevitably make their way onto screens. Best we can do is stop caring.