Solar Panels Are the Future. Check These Out.
It's time to go green with solar energy.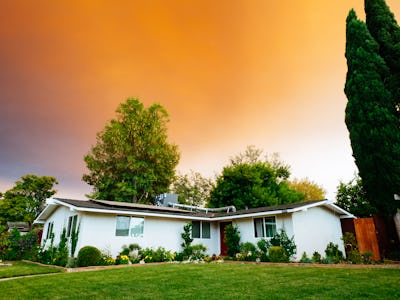 Unsplash / Gus Ruballo
These days, everyone is trying to be more sustainable. Whether that's because you genuinely want to leave a cleaner planet for future generations or because sustainability can also mean serious cost savings, solar power is a major concept that a lot of people are embracing. While the technology isn't new, it's still something that's only been slowly adopted by the general public. And that's because people don't know why it could benefit their bottom line to incorporate solar into their homes. But with Pick My Solar you can get a customized solar solution and the added peace of mind that experienced technicians will be helping you every step of the way.
Cost savings
One of the biggest benefits of investing in solar as part of your home's energy usage is the fact that it can save you money. Imagine getting your energy bills during the hottest and coldest months of the year and not seeing that familiar—and painful—spike in costs. When you install solar panels and also opt to include products like the Home Battery, you can store the energy collected from your panels and rely on the smart technology to automatically switch to the solar source during traditionally high-consumption periods throughout the day. That means you could end up spending almost three times less than traditional energy customers.
Plus, you can also use your stored energy at night, completely bypassing traditional and often dirty sources from your standard energy supplier. Most importantly, imagine not being impacted by power outages during severe weather or heat waves. When you have solar panels and the Home Battery, you can create a micro-grid which is independent of the traditional power grid. And that means blackouts no longer matter to you.
Why you should consider Pick My Solar
First, note that each solar panel project is customized to fit the needs of your home. It isn't a one size fits all type of arrangement. When you work with Pick My Solar, the focus is on education, creating a solution that's specified to your current energy consumption, and selecting the right panels and layout that will work for your home's roofing and energy needs. Each customer receives a dedicated energy advisor who will walk them through the entire process from the energy assessment to reviewing the design plan.
Your advisor will also provide you with accurate bids of licensed technicians in your area who will install your solar panel system. That means that before you ever spend a penny, you'll receive a customized design plan for the recommended solar panel installation, an accurate assessment of your energy consumption and a selection of installation technicians who are bidding for your project. You never pay Pick My Solar a penny. That's a low stress, no-risk, way to create a truly sustainable home.
As an added peace of mind, Pick My Solar stands behind the work that their network of technicians complete with their three-part Tri-Guard guarantee.
They promise that the solar systems they design will deliver at least 95% of the kilowatt-hours guaranteed during the design process. If for any reason in the first 12 months of operation the actual output is less than the 95% rate that was quoted, Pick My Solar will pay for that kWh difference.
All solar systems installed by Pick My Solar technicians and engineers come with a 10-year guarantee. If during that period there is a need to repair or replace any panels or damage due to the panels occurs on your roof, their technicians will cover the cost to fix these issues.
All solar modules come with a 10-year guarantee that they are free from defects that would impact their function. But the manufacturers of these panels also include a 25-year warranty for their power output ratings. Should a panel be found faulty or fail to meet the quoted power output, the manufacturer will replace it and the cost of the repair and installation will be covered by the technician.
It's never been easier to embrace clean energy. And if you're tired of expensive energy bills in the winter and summer, now is the time to make the switch with a no-pressure solution like Pick My Solar.