These Little-Noticed Amazon Deals on Clothes Are Always Awesome
No one will tell you about these because then they would run out of them. But these Amazon clothing deals are pretty great.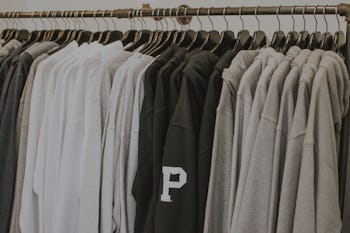 Unsplash / Lauren Fleischmann
There were a lot of great deals on Amazon in the last couple of days. And some of them got a lot of notice. But there is an entire Amazon clothing department with deals that are always pretty amazing. They were slightly better on Prime Day. But honestly? It's hard to imagine how the prices could get much lower than their everyday, startlingly affordable, normal day low prices.
We shop the Amazon Brands clothing department on a regular basis and manage, as a result, to have a decent selection of basic clothes to wear to work and to work out and to just about everything except a date or a wedding without spending as much as some people drop on a pair of pants. It's nice to have a closet full of wearables. And it's also nice to have money to spend.
Here are some of today's great deals.
If you are trying to survive with only a couple of pairs of shorts because you don't want to drop your entire paycheck, check these out. They start at $13.59 a pair. The price, inexplicably, changes a little based on size and color. But they top out at $24.95 so, whatever you wear, it won't hurt your wallet too much.
Buy a pair. Buy six pairs. Send back the colors you don't like or that don't fit right. A full closet of shorts means you don't have to do laundry so often!
So…it's summer. How many swim trunks do you have? Just one? Um. Isn't that sort of inconvenient? What if you want to go to the beach three days in a row? What if you want to go to the pool and the beach in the same day? Doesn't that mean you have to put on the same wet suit sometimes? Why not have four or five pairs?
Because they are too expensive! Right?
Yeah, no. These aren't. And they come in a ton of colors so you can mix it up. Go flashy one day and subdued the next. You have moods, right?
There is a reason that Southern Gentlemen are always portrayed in linen suits. It's hot in the south! Your wardrobe matters. When it is 100 degrees and 100 percent humidity, linen is a survival fabric. Even if you live somewhere that only gets somewhat hot, you need some linen to get through it. And this is an awesome linen shirt, at a stock-up-on-it price. It comes in 11 colors. You need several of these.
The backbone of every male wardrobe is the t-shirt. And when a garment is essential to your day, it—not you—determine when it's time to do laundry. The more you have of these basics, the less often you do the laundry. These are 100% cotton, come in tons of colors, and a two pack is a little more than $10. Drink at home on Friday and get six of these instead!