Super Cool Accessories for Both Dogs and Humans Because Yup
Your pup is special. Shouldn't his collar and leash be, too?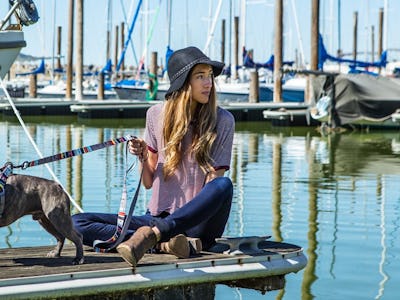 Wolfgang Man & Beast
For dogs, the best time is the time they spend with you, their human. It's probably the best time for you, too. Wolfgang Man & Beast is all about celebrating the bond between dogs and their people, with a selection of specially styled leashes and collars that reflect craftsmanship and a love for the outdoors (because what dog doesn't love the outdoors)?
You know who's a good dog, but show the world who's a stylish dog, too, with these accessories.
Why We Chose It If you and your pup love the mountains and the colors of the sky at dawn, the Mountain Home patterned dog collar will serve as a constant reminder of good times in the hills. The mountainscape design is available on a matching leash as well. This collar comes in three sizes, based on your dog's neck measurement, and comes with a lifetime warranty.
Why We Chose It The OverLand pattern is designed to help you recall the fun of tramping through the woods with your canine companion and encourage you to get out into the great outdoors. The leash is available in two sizes: 5/8 inch wide and 4 feet long or 1-inch wide and 6 feet long. (matching collars available) The bigger leash is priced at $24.95.
Why We Chose It The pattern on this harness emphasizes the graphic qualities of Native American textile designs. The harness is designed to ride lower on the chest, not around the neck, which makes it comfortable for a walk. The harness comes in four sizes to accommodate your best four-legged friend of any size. Matching leash is available.
Why We Chose It If you prefer the look of leather, it's hard to beat this cool collar made of nubuck with an unusual cutout. The print is called LokiWolf, named for the wolfdog who belongs to Wolfgang's founder. The hardware is powder-coated steel. The leather collar is 1 inch wide and comes in three sizes including extra large (sorry tiny dogs, this one's not for you.)
Why We Chose It We promised accessories for you too, so how about this handy money clip wallet featuring the Wolfgang logo. This single-fold wallet is ultra-thin with a custom money clip inside for any cash you choose to carry around. There's also a see-through mesh window for your ID, and four other card sleeves that can hold at least two cards each. The wallet is available in four colors, from the staid graphite pictured to a bright saffron.