Put Your Drink in Here and It Will Be Cold All Day!
These wine glass shaped tumblers are the only beverage container you need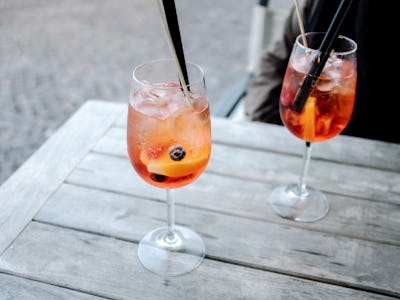 Unsplash / Tomasz Rynkiewicz
If you put your drink—iced coffee, wine cooler, ice water, soda—in a glass it will look pretty for thirty minutes. Then the ice will start to melt. A wet puddle will accumulate under the glass and destroy whatever piece of furniture is under it. (Unless you are diligent about coasters. Then it will only destroy your coasters.) You will be in a race against the heat to drink your beverage before it's diluted. Then you'd better get that glass cleared before the mess starts.
There is a better way, though.
Your drink will remain — exactly as you made it — for hours, all day if you put the lid on it. The ice cubes won't melt. There will be no condensation on the outside of the glass. Your wine cooler will be cold. The iced coffee won't be watery. It's like an hours-long holding pattern for whatever cold beverage you put in there.
It works for hot beverages just as well. So when winter arrives, you can start drinking your morning coffee — and taking your sweet time about it — from a wine glass! Your hot beverage will stay hot in here for a couple of hours.
You need these for work, for home, for your beach bag (set them right in the sand!), for the pool (they won't break!), and for the deck. They also make fantastic gifts because once you go insulated, you won't go back. Then you are on a mission to have as many as possible.