There's a Prime Day Deal on Apple Watch Series 3 Happening Right Now 
Today is the day to score an Apple Watch!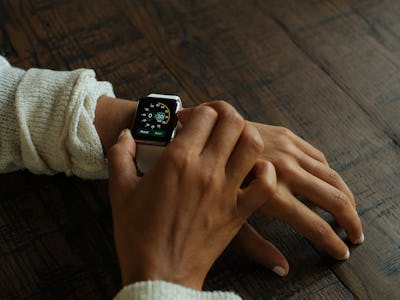 Unsplash / Luke Chesser
You have been resisting the Apple Watch for months. (Maybe years?) You've been telling yourself all sorts of lies to calm the urge to buy one: I don't want to be more connected. I don't need all that health data to encourage me to move more and take better care of myself. I don't want the ease of glancing at my wrist to see if that text is something I need to deal with. I don't need a watch to help me track laps or steps or sleep or other health metrics. No. I'm fine with this empty, bare wrist.
You can stop doing that now. Just buy the thing! You know you want it.
It is $150 off for Prime Day!
It just isn't going to get more in your budget than this! 
And there are really no compromises to get that low price. It's a slick white band, a silver aluminum case, a great watch. (Let everyone else do the beta testing for the Apple Watch 4.) If you want to be able to go out without bringing your phone at all — and not miss anything that happens — you can get it its own cell plan. (But you don't have to.)
You will have the sort of data on your health, just from strapping this thing on, that can change the way you behave and lead to real health impacts.
It will also notify you to texts, calls, Tweets, and anything else that happens on your phone that you want to be aware of at a glance.
It will track workouts, coach you through workouts, tell you if you are hitting your heart rate goals during workouts, monitor your sleep, and much more.
Once you wear it, you will wonder how you lived without it. But you won't have to live without the $150 that's slashed from its price today!