Get a Custom Suit Without Spending a Bajillion Dollars
You don't have to break the bank to look like a million bucks.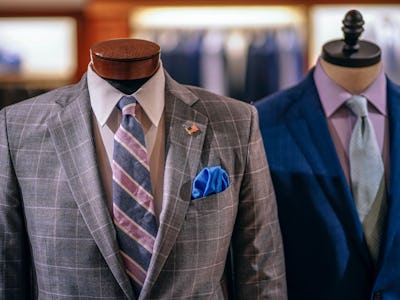 Pexels
Not all of us can afford to buy ridiculously expensive suits and walk around sporting Rolex watches and Armani shoes. But you don't have to when you can get a custom suit that's tailor-made to your measurements and specifications for just a few hundred bucks.
With Indochino's made-to-measure business, you can select your own type of suit, customize it, and have it made to your exact specifications for just a few hundred dollars—that's compared to the possible thousands it could cost you otherwise.
Indochino notes that it's one of the largest made-to-measure apparel companies in the world, and it's responsible for creating a wide variety of formal wear, including suits, shirts, chins, blazers, and overcoats. And you don't just get to pick one suit style and go from there.
You can select from different kind of monogramming, which buttons you'd like, how many pockets and where they'll go, and several other details that'll have you ready to suit up and look like you spent the price of a down payment on a house—but you only dropped the price of a PlayStation 4.
While you can buy any of their suits and have them customized online by sending in your own measurements, Indochino also has a variety of showrooms available where you can browse already-made suits and be measured by a professional. From there, you can send off your order through the official store and then just sit back and wait for it to be processed. Couldn't be easier!
If you're always looking for a way to up your casual dress game, Indochino is a great option for those who need to positively dazzle while keeping to a strict budget. Check out some of their suit designs to see if they've got anything that strikes your fancy and go from there.