Back-to-School Supplies You Can Buy for a Discount on Amazon
Never pay full price again, if you can help it.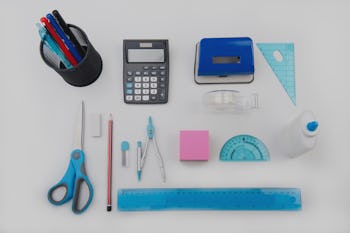 Pexels
Aside from waking up early and getting an eduction (obviously) we all know what the whole rigmarole of going back to school means: buying supplies and spending cash. But there's an easier way to grab all the supplies you need for the year other than heading out to the first store you need and plunking all that cash down.
You can buy, like most other things, the school supplies you need straight from Amazon and save some hard-earned green there. From notebooks to awesome, reliable pens in every color you can think of, Amazon is fully-stocked to make sure it carries everything you need to make your school year totally awesome, and super affordable. Here are just some of the school supplies you can save big on thanks to Amazon.
One of the most important things you'll need at school is undoubtedly a seemingly neverending supply of notebooks and paper, so keep it all close at hand by buying several composition notebooks at a time for when you'll inevitably need them. These particular notebooks come with 100 sheets of durably bound paper and even a class schedule space on the inside front cover. The cover is made out of heavy cardboard so it should be quite durable, as well. Don't just go buy one for a few dollars a pop at your local retailer! Grab this multi-pack instead.
A good, reliable pen should always be on the list when you're putting together a back to school list, and this 24-count set of black, red, and blue ink pens should make for a cheap and easy way to ensure you never run out of writing instruments no matter what happens. There's a different color for just about every need, and they're all great quality pens to start with. Plus, you get them all on the cheap and at a better price than the store.
Every great scholar needs a calculator for those math classes like Algebra, Statistics, and Pre-Calculus. This time-tasted calculator is one that's on most school supply lists, and you'll need it for you or your student if you want them to succeed. Luckily, Amazon has it at a discount so you don't have to worry about paying the retail price for this thing, which can be very expensive. This way, you'll have the best supplies out there and on the cheap at that!
School means being prepared to put together a wide variety of assignments on digital media and sometimes transporting them with you from home to your school computer. That means you'll need a reliable jump drive to take care of it all! Save money by opting for this reliable Samsung drive, which you can count on to get your files from point A to point B in no time flat. – and you don't even have to worry about spending over $20 on it!