Students Can Save Up to 30% on Prime Day Deals Like These
It's time to head back to school, and that means saving cash on the most important supplies.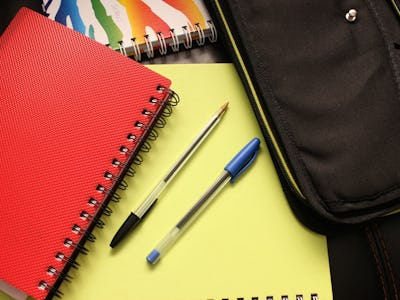 Pexels
With college just around the corner for some students, it's also time for parents (or college students themselves) to start thinking about buying up all the supplies they need to make their time at school the most efficient (and comfortable) it can be.
Luckily, Amazon has plenty of back-to-school deals coming up for Prime Day to help make all that impending money that needs to be spent on school supplies and dorm goodies feel a little more painless. From binders to a few extra folders here and there to keep organizes, here's a few items Amazon has on sale for up to 30% off for this Prime Day.
1. Case-It Might Zip Tab Zipper Binder
Every student needs a great binder to hold all of their papers and assignments, and this heavy-duty option will keep things safe. Plus, you get six of them with this package to make sure all the kids in your brood have one, or you've got a replacement for every time you have a mishap with yours throughout the rest of the year.
It's bright red, has plenty of room to hold just about anything you can fit into it, and it's from a reliable brand. Let this set take you through just about everything college has to throw at you, and more!
2. Smead Two-Pocket Heavyweight File Folders
Whether you've got a lot of different classes or prefer to color-code the work you carry around with you, this set of 50 colorful file folders will ensure you've got room for just about anything you need to carry around, and it's all ridiculously cheap. Both pockets can hold up to 50 sheets of paper, and the folders themselves are made out of textured stock. Drop one or get it wet in the rain? Just grab another one from the box, no worries! It's not too expensive to worry about with this awesome sale price.
3. Cross Classic Century Satin Chrome Ballpoint Pen
Never underestimate the power of a great pen. No matter what you're writing, a high-quality pen can make it seem like a literary masterpiece. And with the amount of writing you've got to do in school, especially college, a Bic pen just won't cut it. You can get this satin chrome ballpoint pen that lets you write smoothly and consistently for a great price, and it even comes with a manufacturer's lifetime mechanical warranty should you need it.
How many forms do you need to fill out in school? About one a day, and for some reason they're always needing to be printed instead of delivered via email. That's okay – you can stock up on 20 lbs of printer paper so you can print out whatever you need in terms of completed forms, assignment, research, or even just invitations to the biggest party on campus. There's plenty of paper here for just about any reason you may need to print something, and you don't have to break the bank for it all.