Organic Cotton Shorts You Need This Summer
It's summer, so why are you still wearing heavyweight jeans like it's cold outside? Slip into something a little more comfortable with these Entireworld shorts.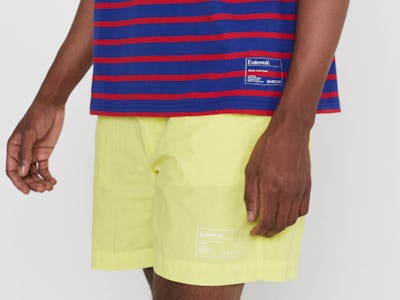 Entireworld
It's summer, and that means it's time for men to let their legs get a bit of sun and be on display. If you suffered through a particularly harsh winter, you've probably been dying for the chance to show some skin. And that means you're going to put the pants on holiday for a few months and slip into a pair of cool shorts. But you can't wear just anything. To keep you stylish this season, we're talking shorts. These are going to be the breathable and trendy style must-have that you're going to wear all summer.
Lightweight and modern
When you're suffering through the dog days of summer, the last thing you want to do is wear clothing that clings uncomfortably to you because it's dripping in sweat. The Entireworld Type C Version 4 shorts are made of 100% organic cotton, and that means you'll stay comfortable even in high temperatures and heavy activity.
The Fit
Let's talk fit for a minute. With men's shorts, they've seen hemlines rise and fall over the years. But the Type C Version 4 shorts give you the best of both worlds. They come above the knee, but they're not so short that you're going to be concerned about anything showing. As the site says, (a bit tongue in cheek we might add) the fit is "On the money, incorruptible. A little more than Magnum P.I., but not so long it looks like maybe you got the wrong size."
As if that's not enough, they also come with an elastic waist. So if you have a little too much to eat at the next cookout, you won't be feeling uncomfortable for the rest of the day. But, in case you're concerned that an elastic waist isn't fashion-forward enough, these shorts also feature a button front. That translates to you rocking a cool front tuck without being embarrassed.
The Specs
Entireworld's Type C Version 4 shorts are available in sizes ranging from extra small to extra large or a 26-inch waist to a 35-inch waist. They're also available in three bold colors: green, navy and yellow. Best of all, when you shop with Entireworld, they have a free returns policy. So, you can shop without the fear of regrets.