These Wireless Headphones Are Launching on Prime Day So Get Ready
Snag a pair of truly wireless headphones on the low.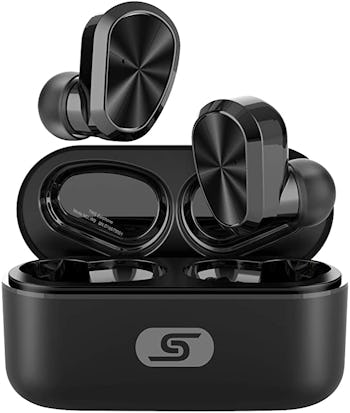 Amazon
Get those credits cards at the ready. Amazon's Prime Day sales are about to begin, and they're bringing all kinds of must-have tech with them – like this pair of truly wireless earbuds that are about to go on sale as a Prime Day special. If you're not an Apple AirPods fan and you haven't yet found an alternative that really speaks to you, you might consider waiting for these to go on sale and nabbing them instead.
These TWS Bluetooth 5.0 Wireless Earbuds are waterproof headphones that come with their own intelligent charging case to make sure they're always ready to go whenever the mood to listen to your favorite tunes strikes you. They can be used for 6 hours on a single full charge, and then their charging case can keep the earbuds charged fully in about an hour after that. You also get 24 hours of talk time if you decide to use them as a headset to pair with your phone.
Plus, they come in several colors: black, white, and pink, to ensure there's a perfect pair for just about anyone out there. They're also made to fit inside your ear better than your typical non-ergonomic AirPods copycats. If that all sounds great, be sure to get ready to snag a pair of your own when Amazon Prime Day kicks off, because $39.99 is a steal for earbuds with absolutely no wires – and at that price, you can get a couple of pairs to make sure you never lose them.
Be sure to keep an eye out for a ton of other exciting Prime Day deals as we inch near the most exciting shopping day of the year for Amazon customers – there's going to be a lot going on, after all, and you won't want to miss out.