4 Men's Sandals You'll Actually Like
Perk up your wardrobe this summer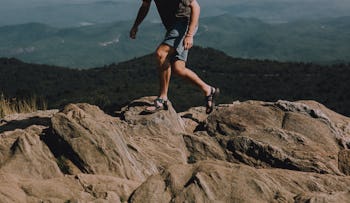 Unsplash / Emma Frances Logan
Men can often feel like they get the short end of the stick when it comes to fashion. While women seem to have endless options, guys can be limited to a simple suit, slacks, jeans, and basic tees or button downs. Even Men's Fashion Week is significantly shorter and separate from "regular" Fashion Weeks around the world that are dominated by launches for women's clothing. So we get it, you're tired of being slighted on the fashion front. And that includes summer footwear. Well, rejoice because Macy's is having a sale and that includes a few cool sandals that are equal parts functional and stylish. These styles are sure to be conversation starters at the next barbecue or post-work Summer Friday get together.
Step up your sandals game if you've been rocking those classic Nike slides since who knows when. The Tommy Hilfiger version offers a more modern color combo for the slide. The traditional tri-color Tommy flag covers the upper of the shoe and you can choose between a low-profile navy sandal or a bolder contrast of red against that Tommy flag.
This was a style that was designed exclusively for Macy's! The Bar III is a more sophisticated sandal for when you really do need to be stylish but you want to actually enjoy letting your feet be free. It's almost like those iconic "dad cookout sandals" got a much-needed style update and now you have something you can really wear beyond the backyard. The strappy shoe features a criss-cross design and an adjustable back strap for increased comfort. Available in two colorways, classic black and an olive/taupe combo, your wardrobe will thank you for adding this to the team.
With a brand like Calvin Klein, you would expect a more fashion-forward shoe. And that's what you get with their Rowland sandals. These slip-on style shoes make getting ready and out of the house easier than ever. They're a casual style that's still perfect to wear for a get together with friends or take on a warm-weather vacation. Plus, they're quite fashionable with the designer's name, Calvin Klein, embossed in the insole.
Cole Haan is yet another fashion icon with a great menswear collection to boot. The Goldwyn is a leather criss-cross sandal that's perfect for the fashion-forward man. It comes in a warm cognac hue, giving it a versatility to fit perfectly for laid back days or even at events where you still want to wear a sandal, but you want to step up your style game.