This Weekend's Box Office Was the Worst
Not even summer heat could coax people indoors for this lineup.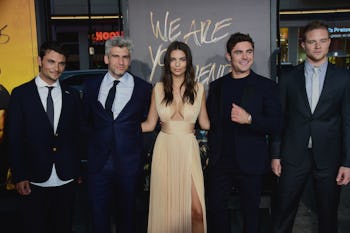 Getty Images
Chances are you didn't go to the movies this weekend. If you did, condolences, because it was pretty ugly.
Box Office Mojo's tally puts numbers to what your eye could tell you looking at a marquee: It was a weak crop, to put it mildly. The top 12 movies at the domestic box office pulled in a collective $68.8 million, a relatively large sum until you consider the collective top-12 haul from last year tallied $88.2 million. That 22 percent dip made it the lowest grossing weekend of the year so far, pulling in less than the first weekend of March's paltry $78.3 million.
Leading the lowest of the low was the Zac Efron DJ movie We Are Your Friends, which didn't make many friends this weekend at all. Though opening in 2,333 theaters across the country its $1.8 million take put it in twelfth place at the box office. Directed by MTV's Catfish co-host Max Joseph, the film earned the dubious distinction of being the third-worst wide-release debut weekend ever, just ahead of Delgo and The Oogieloves in the Big Balloon Adventure. You know you're in bad company whenever the Oogieloves are mentioned.
One "success" story of the weekend, however, wasn't much of a success at all. The evangelical drama War Room, filmed for a modest $3 million, earned $11 million, enough for second place at the box office. That's a nice return, but pretty thin considering how many Christians didn't go — and on a weekend when they weren't exactly flocking to other movies. When groups as large as the evangelical crowd stay home, you know it was a dismal weekend at the movies.
The real winner of the worst weekend of the year was the N.W.A biopic Straight Outta Compton, whose $13 million gains put it at the top of the heap for the third weekend in a row. Its $134 million total has made it the highest-grossing biopic of all time, handily beating Joaquin Phoenix's Johnny Cash drama Walk the Line and its $120 million take a decade ago.
Don't look for the box office to recover anytime soon. Next weekend's only wide release is the franchise-fatigued actioner The Transporter Refueled, and after that is M. Night Shyamalan's The Visit.