These Sweet Over-Ear Bluetooth Headphones Are About to Launch but You Can Preorder Now
Make sure you get them before you miss them.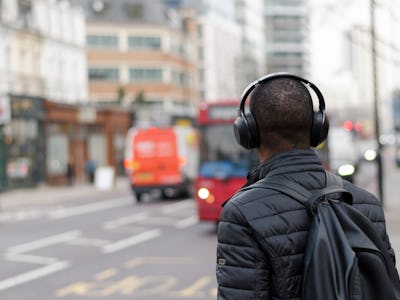 Unsplash / Henry Be
Amazon Prime Day is a lot of people's favorite day of the year. What Black Friday used to be Amazon Prime Day has become and with that comes a whole market of exclusive launches that you can get for unbeatable prices. These Kygo Life headphones are no different. Does the name Kygo sound familar? If you're into music, chances are you've heard the name of this Norweigian DJ, songwriter and record producer before—most likely thorugh his work with Selena Gomez, the Weeknd and John Legend.
Available in Storm Gray, White and Black, these headphones have a monochromatic futuristic look that complements any outfit or experience. Perfect for your morning commute or even the gym, these headphones feature A9/600 sound quality that will deliver impeccable sound with great bass lines. The attractive design is directly influenced by Kygo's Scandinavian upbringing which has brought him unending understanding of elegance and function's coexistence.
What's even better is that the controls are easier than ever. There is an incorporated touch pad function that allows you to skip and pause music, as well as adjust volume and take calls. Used by Kygo at all of his DJ shows, the Kygo Life Headphones offer things no other pair of headphones has been able to offer to date.
Pairing to your phone or laptop via Bluetooth, the Kygo Life headphones also work best with the companion, Kygo Sound App. What the Kygo Sound App allows for is immediate and comprehensive display of settings that you're fully able to adjust depending on your mood, song or podcast that you're listening to. The Kygo Sound App also ensures that your headphones are constantly up to date with the newest software so that you are less likely to experience technical difficulties.
If that's not enough, these headphones work great at noise cancellation and comfortable fit if you're a frequent traveler often in busy, loud or long traveling environments. Did I mention long? These headphones are capable of 23 hours of playback so that you don't have to be tethered to yet another cord while you're out in the world.