NASA Gear That Will Keep You Looking Fly This Summer
Wear--or carry--your own homage to the outfit that got us off the planet: NASA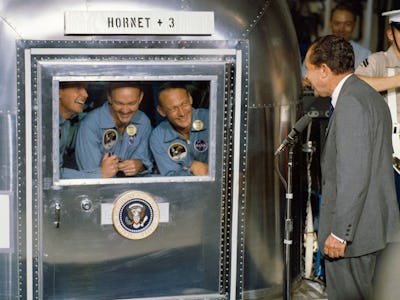 Unsplash / History in HD
Unless you are a conspiracy theorist, you know that we—as a species—managed to get off our own planet and go into space. This is such an amazing human achievement—done first before there were computers capable calculating the trajectory or anything else—that it makes us insanely cool. Even if we are having a low moment now on space travel and working together to achieve greatness, even though NASA is underfunded at the moment, this is still insanely cool.
So. If you're a bit of a nerd and you want to sport some cool this summer, think NASA.
Here is some gear you can wear all summer to remind everyone you meet that we got ourselves into space. If we can do that, we can do anything.
You don't need to carry your own air because you can breath fine in this atmosphere. But you probably have to carry something, right? Carry it in this bag and every day will be like a trip to the moon.
Side water bottles. A slick, space-suit styling, NASA patches, a flag patch, and top handles as well as backpack straps. This thing is nerd-cool.
There isn't a NASA patch anywhere on this polo shirt. But it is as NASA as clothing can get. The Phase Change Materials fabric was invented by NASA to control an astronaut's body temperature while in space.
If there is any chance that your day will take you into space, this is the polo to wear. It breathes. It's cool. It's warm. It's what you need it to be and it's ready for space flight so it can probably handle dinner and a movie.
This dress shirt is also made from the NASA-invented Phase Change Materials. Meant to control an astronauts' body temperatures in space, it's perfect for that tense meeting you have today. What can the client throw at you that could be worse than going into a vast vacuum in a tin can?
You got this. And this shirt has your back. It it many times more breathable than cotton. It regulates your core temperature. Air conditioning? Humidity? Whatever? Is that worse than space?
Also? You never need to iron it.
Cover your head. Announce your nerdy faith in space travel.
If you are going to wear a hat, and you know you should if you go out in the sun, don't advertise lesser products. Advertise one of the greatest human achievements of our species.
NASA went to space. Look around at the other species. How many of them did that? Right? Wear this insignia with pride, people.
It comes in tons of colors, too. Maybe you need several of these?
Worn in like you've had it for a long time. A vintage NASA logo. A heavyweight (50/50) cotton/poly blend. This is a garment that will make people believe your backstory. "Yeah, my Dad was a NASA engineer. He gave me some of his old gear."
Create an alternate history for yourself while reminding people of our own not-alternate history. We went to space, people! Remember who you are!
Carry your gear in a replica NASA helmet bag and you will be retro, cool, and paying an homage to one of our greatest human achievements. "We do this not because it is easy, but because it is hard!"
Put anything you like in this shoulder bag. Use it as a weekender, as a daily bag. Wherever you take it, it will remind you that you could go further.