Let's Talk About MTV's Racial Satire 'White Squad'
MTV's faux infomercial exposes racial biases.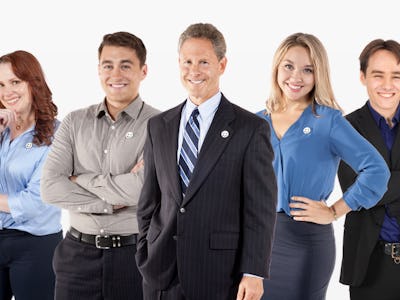 Anyone who watched the MTV Video Music Awards on Sunday night caught the ad for White Squad, a bizarre yet powerful faux-infomercial offering "professional white advantage services" to people of color wishing to sidestep everyday discrimination.
As a black man gets pulled over by a cop and a frustrated black woman shakes her head at yet another annoying office email, a white narrator asks, "Is your skin color holding you back? Are you tired of systemic prejudice ruining your day?"
The solution: White Squad, a team of white representatives to act on the behalf of people of color for life's "racially unbalanced" situations — like hailing a cab, renting an apartment, and appearing in court. The Squad's team of all-white employees promise to use their inherent privilege to help minorities.
Between Miley's constant reminders of how high she was, Kanye's legendary presidential announcement, and Taylor and Nicki's manufactured beef, viewers were already tripping out. Is White Squad even real? Was any of this real? Naturally, they took to Twitter:
Turns out that the fictional White Squad was produced by MTV's "Look Different" campaign, which aims to expose very real "hidden" (ha!) biases and tackle racial inequality. Skeptics may find it disingenuous, coming from MTV itself, but the ad does a brilliant job of exposing uncomfortable truths and targeting the audience that's most likely to respond. Even white kids, who might not be aware of the discrimination their peers face, can look at White Squad and think, perhaps with a moment of clarity, "That's fucked up."
On the Look Different website, the creators admit: "The truth is, we're all a little biased — even MTV." Challenging those biases, they say, is the first step to creating a more equal future. Maybe White Squad just leveraged its privilege to help out people of color after all.