These Pairs of Polarized Sunglasses Will Save You a Fortune
These sunglasses are super cool-looking... but less painful on the wallet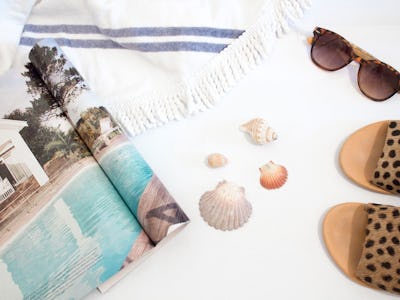 Unsplash / S O C I A L . C U T
Whether you're hitting the beach or planning a hardcore day of outdoor adventures, you need a good pair of sunglasses to help protect your eyes from harmful UV rays. But polarized sunglasses can sometimes be pricey. And if you're the type who loses sunglasses faster than you can say "summertime", you might not be interested in investing a lot of money into something that's going to disappear. In that case, check out these top picks for polarized sunglasses from Amazon that won't break the bank.
Available in three colorways, these budget-friendly sunnies offer the cool style of an aviator frame with a composite polarized lens for 100% UV protection. What's more, Privé Revaux's lightweight design can also be upgraded to prescription lenses. Simply take your sunglasses with you to the optometrist of your choice and have them swap out the standard lens for your prescription ones.
Everything old is new again, and that's exactly how to describe these sunglasses. Their retro vibe gives you a sense of classic sophistication, but don't think that these are merely a fashion accessory. Sungait's glasses are fully polarized, offering UV400 protection. The lenses are shatterproof so you don't have to worry about breaking them if you accidentally sit on them. As if that's not enough, the lenses are also anti-glare and provide true HD color. Choose from the 14 styles available, and shop with the confidence of their lifetime breakage warranty.
These days, style knows no gender and that's why unisex sunglasses continue to be all the rage. Everyone loves a classic silhouette, and that's exactly what Kaliyadi offers. These sunglasses also provide UV400 protection which is guaranteed to block out 100% of harmful UVB and UVA rays. The polarized lenses mean that you won't struggle with glare but will still be able to see the world in crisp detail and full color. Kaliyadi's frames are available in three colorways, but you can also choose to buy them separately or in multi-style packs.
No one wants to wear sunglasses that feel like a heavyweight on their face. The Wowsun sunglasses are meant to be lightweight so you can enjoy a full day of activity outside without causing discomfort. These polarized lenses are also rated at UV400 for full protection from UV rays. The composite lenses are also shatterproof, with an anti-glare layer for improved visibility and true color. Available in 13 colorways, these sunglasses also come with a microfiber cleaning cloth and a hard-sided case for safe keeping.
Vintage is where it's at, but that doesn't mean you should compromise on efficiency. The Polarspex sunglasses offer a classic frame with all the protection that polarized lenses can provide. The lenses feature Polarspex's proprietary tint which allows for more color to show through so you see the world in vivid detail. And if you need an added incentive to buy, when you purchase two or more sunglasses from them, you can save five percent on your total purchase from Polarspex.
One of the most frustrating things about wearing sunglasses is figuring out where to keep them if you don't have a case. And while, ideally, you should keep your glasses in a case, there are going to be times where you need to quickly take them off and don't have access to a case. But you still want them to be protected. Well, Foldies is a sunglasses brand that creates sunglasses that do just that—fold. These unisex shades come in a variety of styles and also feature polarized lenses with an anti-scratch surface for the added protection you crave. Choose from any of the 16 styles available. All sunglasses come with a hard-sided case and a microfiber cleaning cloth.