Stay Cool This Summer With These 5 Men's Shirts That Let You Breathe
Summer is hot enough without the right shirt for the job.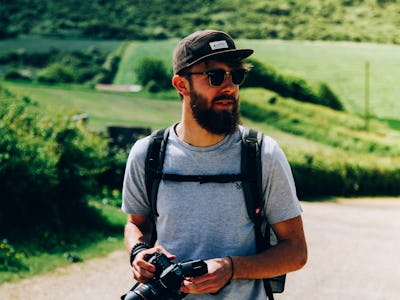 Unsplash / Joshua Harvey
Regardless of your personal feelings on summer, one thing remains true, it's hot out! Whether you enjoy the heat or not, just like winter, there are certain standards of what you need to wear for the weather. For summer, a moisture wicking shirt is just as important as your winter coat is to the chill.
If you're spending any time outside this summer, you should have the right clothes for the job. On this list, you'll find shirts that prioritize breathability, moisture-wicking and in some cases, odor control—which we all know can be a very real need in the heat—while still maintaining a standard of style. Because you deserve to be both stylish and comfortable, shirts need to be both functional and fabulous.
These 6 shirts fit that bill and then some. I've curated my favorite finds from Huckberry and Amazon so that the hard work has already been done for you. All you have to do is pick the shirt or shirts that speak to you.
For the Hawaiian Shirt Guy
Why We Picked It: A shirt doesn't have to be boring to be comfortable. This Joshua Tree inspired button down shirt incorporates adjustable side vents and breathable, wrinkle-free fabric that will only soften with wear and wash.
For the Guy Who Spends Most of His Time Outside
Why We Picked It: I don't need to sell you on Patagonia. If you know Patagonia, you know. They are the champions of outdoor wear and have been a well-deserved name for themselves off of it. But when it comes to this shirt, if you are spending time in the sun, near water or anywhere in between, you need it. The mesh fabric and multiple vents allows for a constant flow of air that will keep you cool while the double layer collar can button down or stand up straight for added sun protection on your neck.
For the Guy That Loves His Pajamas
Why We Picked It: As mentioned above, style, comfort and functionality shouldn't be cause of compromise. There is a place where they can all exist together and this shirt is that place. Cut like a traditional button down, but made out of soft feel cotton, this 100% Belgium made shirt will keep you comfortable and cool throughout the warmest months of the year.
For the Guy That Prefers Henley Shirts
Why We Picked It: This shirt is somewhere between a polo and a henley and that's fine. Made from organic cotton jersey and recycled polyester, this shirt comes in 5 understated colors that can pair well with jeans, slacks or shorts for a comfortable and breathable look at any occasion.
For the Guy Who Wants A Classic Tee
Why We Picked It: A shirt doesn't have to be expensive, or overly designed, to be stylish and practical. This pocket tee from prAna is attractive and breathable without being too much for any occasion or existing wardrobe. Being made from jersey, this shirt won't weigh you down and will allow the heat from your body to escape.