Save $25 on Echo Dot This Prime Day
That's a 50% price cut on this tiny smart speaker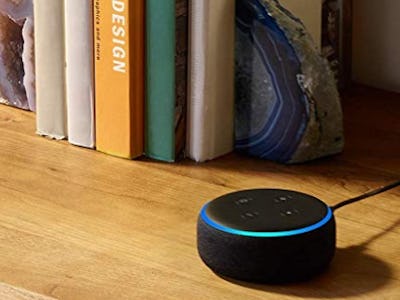 Amazon
"Alexa, find me a deal on an Echo Dot."
Actually, you don't need to ask Alexa to do that, because we've already found it for you. The third generation Echo Dot is on sale for $24.99, half off the list price of $49.99, for Prime Day.
The compact Echo Dot is Amazon's most popular smart speaker, and at this price, you can pair two of them together to create a rich stereo sound for what one would normally cost. This third-generation version of the Dot has a better sound quality and a louder volume than previous gens.
The Dot is less than 4 inches across and less than 2 inches tall, so it will fit anywhere you want to put it. This tiny device will do an amazing list of tasks – almost everything the bigger Echo and Echo Plus will do, and at a fraction of the cost.
Use your Dot to control smart home devices, stream music, line out with a 3.5 mm cable or Bluetooth, and make free audio calls around the U.S., or to Mexico or Canada.
With the Dot, you can play all your favorite music from your preferred streaming service, whether that's Amazon Music, Spotify, SiriusXM, radio stations, podcasts, or books on Audible. You can also use voice commands to get the Echo Dot to set a timer or create and add items to a list. Just ask, and the Echo can give you the weather, news, sports scores, traffic reports, or movie showtimes.
With compatible smart home devices in place, you can use the Echo to turn out the lights, start the coffeemaker, or send you an alert if your smoke alarm goes off.
In fact, Alexa has more than 50,000 skills that allow you (and your handy Echo Dot) to do just about anything you want, and you can even create your own custom skills.
And best of all, the Echo Dot is easy to set up and use. All you need to do is plug it in, connect to the internet with the Alexa app, and start asking Alexa for help.
At half off, you might want to get several and put one in every room, or get a couple and pair them for great streaming stereo. Truly, with a smart speaker as handy as the Echo Dot, you are only limited by your imagination.