Upgrade Your Living Room With 20% Off This Elevated Furniture on Amazon
5 great mid-century modern pieces at amazing prices, delivered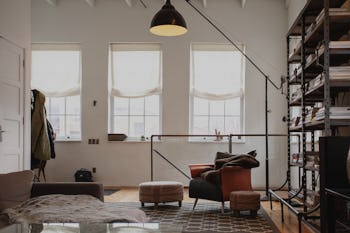 Unsplash / Nathan Van Egmond
Shopping for furniture is a chore. You drive all over town and find only one piece you like. And your take away from that one piece? "Do people really spend that much on furniture? Who are these people?"
Or you can go to Amazon and get 20 percent off this great line of furniture from Rivet. Modern, evoking mid-century, affordable, and comfortable.
Plus? You don't have to drive anywhere and you can measure your space while you are looking at the furniture.
Yeah, this is much smarter.
It's an office chair. But it looks like it would be comfortable at the dining room table, too. And whoever sits in it will be much more comfortable than they are in those hard seats you have now.
It swivels. It looks great. It's comfy. And it comes in Teal and Grey. Update your work-at-home space or turn the dining room into a place people want to stay after they eat.
You have probably been tempted by ceiling fans that cost upwards of thousands of dollars. Why? Because that "cool brand" has done a great job of online marketing. And that kind of marketing is expensive. This the high price.
You can have a modern, slick-looking ceiling fan for a lot less money than that. It's a matter of doing your own shopping. Or go here. This is a great fan at a great price. It comes in this great matt black color with an LED light integrated into a sleek, white housing that will look awesome as it moves the air.
Stop the couch search! This one is a great mid-century look, available in several sizes and colors. And Amazon will deliver it right to your door.
A long bench seat, two back cushions, and two bolster pillows will modern up the look of your living room and give two or three people a comfy spot to perch.
Rivet calls this a "buffet sideboard" but we are all capable of recognizing the perfect bar when we see it. And this is the perfect bar!
Drawers for all your coasters, spoons, shot glasses, bitters, and whiskey sour cherries. A cupboard for the backup booze. And the pretty bottles and shakers go on top.
How awesome will your hipster pad look with the perfect bar in it?
Where do guests set down a glass? Where are you going to put that plant? This little table is here to solve so many problems. You probably three or four of them. They will disappear into your decor, offering several functional places to keep your pretty items out in the room and make living easier.
No need to worry about the finish. Easy to move from place to place. This is the solve you didn't know you needed.