Men's Swimwear That Actually Looks Super Cool
You're an adult now, get yourself some swim trunks to match.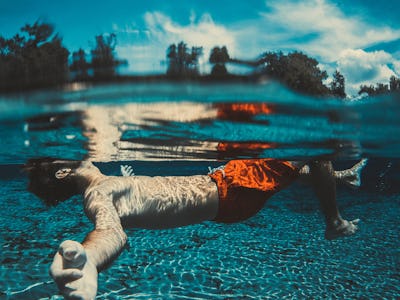 Unsplash / Seth Doyle
Swimwear is a tough spot for a lot of people. Fit is inconsistent across brands and once you finally find one you like, the elastic waist band often stretches out before you get the use out of it you had planned. So where does that leave you? Without a bathing suit you love and missing the best parts of summer fun?
That's both unfair and unnecessary. Macy's has a robust selection of men's swimwear in both flattering silhouettes and fun colors and patterns so that you can stop sitting out weekend beach trips, pool parties, water sports at the lake and all the other parts of the water that bring out the inner child in us all.
If you're worried about navigating your mother's favorite department store, never worry. On this list, you'll find the most stylish swimwear that Macy's has to offer. Macy's gets big bonus points for variety and style while still maintaining the ease of stocking machine washabale products for the everyday guy.
For the Nostalgic Guy
Why We Picked It: These swim trunks are designed specifically for the big and tall guy so that you're not stuck wearing swim trunks that come up higher on your leg than you'd like. Inspired by the 1960s, these board shorts look a little like a pleasantly curated binder covered in stickers. The longer inseams, banded waistband, and hook-and-loop fly with drawstring will ensure a fit that feels right to you.
For the Artsy Guy
Why We Picked It: You don't have to go for bold colors or unfamiliar brands to find your next favorite swimsuit. These swim trunks from Nike offer a pattern reminscient of graffiti for a good looking suit that isn't too ostentatious. The quick drying, water repellent fabric and the internal mesh lining will keep you comfortable during all your water-related activities.
For The Preppy Guy
Why We Picked It: If you like to play with color but aren't one to stick to solids, these swim trunks are a stylish approach to swimming. The bright red sticks out and complements any skin tone while the contrasting navy embroidery brings added intrigue to your whole look. The incorporated back right buttoned pocket with drainage grommet will keep you from taking on more water than is comfortable.
For the Plant Dad
Why We Picked It: It's 2019 and we're too poor to afford apartments that welcome pets and too in debt to even consider procreating… so we have plants that we obsess over. If you're part of the batch of millennials that loves your plants more than humans, these board shorts with a classic fit are an understated but fun way to represent your interests. Burn easily? The UPF 50+ sun protecting fabric will keep you from getting burned while the water wicking fabric will keep you from dripping water all afternoon. Big points for the 4 functional pockets.
For the Classic Guy
Why We Picked It: If you're not in love with busy patterns but would like to do more than just wear a solid color, these gradient swim trunks come in 4 neutral but fun colors that will allow you to express yourself without feeling overwhelmed. The 7-inch inseam is a great in between fit for guys that don't like to go too short but feel swallowed by classic fits. Oh, and you can only get them at Macy's.