Try These Organic Coffee Blends for Your Next Cup
Start your morning right with these awesome coffee blends.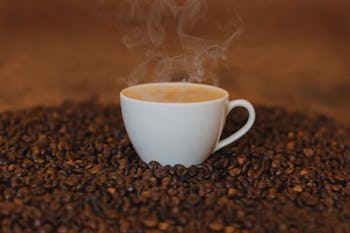 Pexels
If the USDA organic logo means the difference between purchasing a product or passing it up, it can be hard to shop online. This is doubly true with a product like coffee, of which there are seemingly endless varieties. For some people, the piece of mind a little sticker can give is worth the trouble, and if you're one of them, then this list is for you.
We've put together the best organic coffee blends on Amazon, so you can get your cup of joe through the internet without worrying about it not having the USDA stamp.
1. Cafe Don Pablo 2LB Subtle Earth Organic Gourmet Coffee
This Arabica coffee strikes the middle ground in almost every category, which makes it great if you're just looking for a quality, medium-dark roast with no surprises. This, and its low price, make Cafe Don Pablo a great coffee to keep on reserve for entertaining guests or just everyday drinking.
Cafe Don Pablo has a smooth, oily flavor, and doesn't have a bit of acidity or bitterness. It's not bland by any means but lacks the subtlety that some coffee drinkers may be accustomed to. However, it's a coffee that will offend no one's palate, which makes it a great organic coffee to keep in reserve.
2. Valhalla Java Ground Coffee by Death Wish Coffee Company, USDA Certified Organic
If you enjoy some coffee with your caffeine, Valhalla Java is right up your alley. This coffee contains around three times the amount of a regular cup and is excellent for a massive pick-me-up. Furthermore, it tastes great and doesn't have that chemical taste that some high-caffeine drinks have since it's all naturally produced from the brewing process.
Valhalla Java is a medium-dark roast with a nutty motif and hints of chocolate. I'd say this is an excellent breakfast coffee, especially in the winter, and goes well with food since it has such a smooth, pleasant flavor.
3. The Organic Coffee Co. OneCup, Breakfast Blend, Single Serve Coffee K-Cup Pods
As much as I love brewing my own coffee, I love the convenience of K-Cups, Organic Coffee Co.'s Breakfast Blend is great for those lazy mornings when you don't want to work hard for a good cup of coffee.
These K-Cups go a step further as well. Not only are they certified organic, but they're also biodegradable. With twice the peace of mind, what else could you want?
4. Cafe Altura Freeze Dried Instant Organic Coffee
Sometimes when you're on the go, there's just no way to brew a pot of coffee. In that case, you can still have a satisfying cup with Cafe Altura's freeze-dried instant organic coffee. We all know that freeze dried isn't the ideal way to enjoy coffee, but when the going gets tough, you might as well make the best of it.
Cafe Altura is made from Arabica coffee and gives that smooth, nutty taste that the strain is known for. In addition to being good for a cup of coffee in a pinch, Cafe Altura is suitable for cooking. So, if you need coffee for milkshakes or baked goods, you can't go wrong with this quality freeze-dried product.