These Items Are Essential for Your Car
Preparedness is where the rubber meets the road.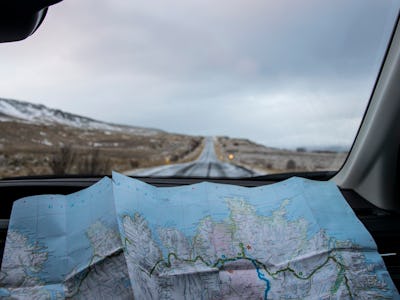 unsplash
In true 21st century form, we all have the tendency to rely on modern technology to come to our rescue. No matter what happens we know we have a smartphone on hand to phone a friend. And if you're smart you may even have roadside assistance. But what happens when you're out exploring the world and your cellphone battery dies when you're off the beaten path? You may need to rely on yourself and this is where the rubber meets the road in terms of preparedness. Consider these essential items—for safety's sake.
A dead battery can sneak up on you and when there's no one around for miles you have to be able to help yourself. The aicker auto jump starter can be a lifesaver. It can jump start virtually any vehicle and also serve as a backup up power source for your devices. It's compact enough to store conveniently in your glove box and it comes equipped with a built-in flashlight, and an SOS emergency strobe.
When you're out on a road trip it's important to maintain connectivity and you can't do that with a dead battery. The Anker dual USB car charger uses power IQ technology to deliver high-speed power your devices. And even though it has two USB ports it's still sleek compact. With a wide range of compatibility, the Anker USB charger can help you keep the lines of communication open.
VANMASS Wireless Car Charger Mount
It's 2019 folks and you know what they say connectivity is king. Ok, maybe not but they should. The great thing about the VANMASS Wireless Car Charger Mount is that it offers high speed mounted air vent charging. Not that you should be looking at your phone while driving but this one gives you the visibility.
The Apeman dash cam is basically an all-inclusive security system for your car. While you're driving it provides video evidence in case of accidents and 24 hr monitoring so there's an "eye" on your vehicle when parked. A 3-inch screen, an ultra-wide field of view and excellent night vision make this one a must-have.
Getting into an accident is not something we want to think about but it's certainly something we should prepare ourselves for. The IPOW hammer seat belt cutter is one of the best multi-tools you can have in your car when the need for a quick exit arises. Accidents can compromise the integrity of the electronics in your car, seatbelt and window buttons may not work. The IPOW hammer seatbelt cutter gives you the ability to break windows and cut seatbelts freeing you when seconds count.