4 Best Backpacks to Take on an Airplane
Big Enough for a Few Days, Small Enough for the Overhead Bin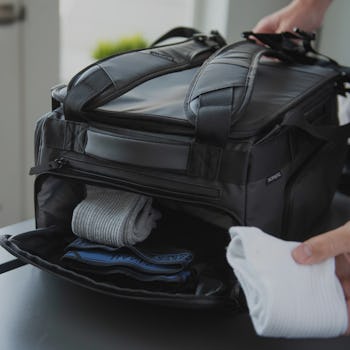 Nomatic
If you're going on a short trip, a backpack is a perfect choice for ease of carry through crowded airports. With a backpack, you have someplace to slip your water bottle and zippered pockets where you can keep your ID or baggie full of toiletries, ready to hand to the TSA agent when needed.
Most regular sized backpacks meet the overhead bin restrictions at major airlines, too, so there's no need to check baggage, and that can be a major time- and money-saver.
Good for a Weekend
Why We Chose it The In & Out backpack from Mystery Ranch is small enough to fit in the overhead bin but large enough to get you through a weekend. The interior includes a couple of pockets and mesh areas so you can separate clean clothes from dirty, and you can stuff your ID and water bottles in the external zipper pockets. The padded shoulder straps are contoured, so it's easy to carry through a busy terminal, and the Cordura rip-stop fabric will prevent tears and abrasions. If you're using it as extra luggage, it'll stuff into its own mesh pocket and is no bigger than a water bottle when not in use.
Lots of Pockets
Why We Chose It The Aer Duffel Pack's capacity is just under 25 liters. The front-load main compartment is easy to access, and both the interior and exterior of the pack have pockets where you can stash accessories and valuables. There's also a padded laptop pocket and a ventilated shoe pocket. With ergonomic shoulder straps and a padded mesh back to keep you cool, it's no problem to lug this through the TSA line.
A Roomy 30 Liters
Why We Chose It Nomatic puts lots of thought into designing a product and the result is more than 20 features that make the 30-liter travel bag a go-to choice for carrying your stuff, whether it's to the gym or out of the country. Features include a laptop compartment, special compartment for socks and underwear, a pass-through handle so you can hang it on your roller bag, bottle pocket, and ventilated shoe compartment. You can carry it like a duffle or a backpack, and it fits in the overhead bin. It's also waterproof, should you get caught in the rain.
Expandable Space
Why We Chose It This expandable backpack is a great choice at a lower price. The main compartment has a full-expansion zipper that adds 10 percent more packing space, and the backpack's dimensions are right in line with what most airlines list for overhead bin storage. The main compartment includes a zippered mesh space so you can keep items organized, and there's also a zippered laptop sleeve. You can also remove the padded shoulder straps, sternum strap, and waist belt and stash them in a pocket if you want to carry it like a suitcase with the handle.