New Burning Man Sheriff Focuses on Illegal Drugs
Jerry Allen isn't necessarily into the pleasure of the Playa.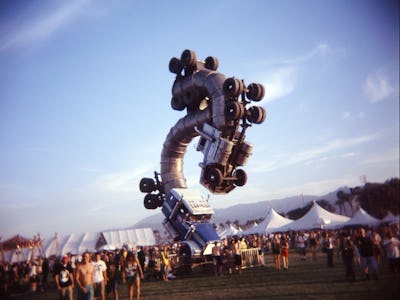 Getty
New Pershing County Sheriff Jerry Allen would happily bust a few more Burning Man attendees if he had the resources, and it sounds as if he'd even be rid of the whole damn festival if he could. And he's making his views clear as the arid party looms, presumably to warn celebrants that he's intent on enforcement.
"We don't change the laws when Burning Man comes to town," he told The Reno Gazette-Journal. "Burning Man brings nothing to Pershing County except for heartache."
Former sheriff Richard Machado had a reputation for being Burner-friendly, but Allen seems to regard the collective with disdain.
"Burning Man taxes this county. We don't have the services to provide them. Pretty much everything they buy, they buy outside," Allen said. "I'm not saying we need to make gobs and gobs of money. I'm glad they can bring economic interest to Nevada, but they leave Pershing County high and dry."
In Burning Man's defense, organizers say they always kick money to the locals, and even pay for the cost of prosecuting felony crimes associated with the event. Allen says it's not enough. Then there's this statement from the U.S. Bureau of Land Management, hinting that Allen might be looking to increase drug busts:
"Throughout the event, threshold levels of drug possession for adoption of a case for prosecution by PCSO (Pershing County Sheriff's Office) were unclear and inconsistent. Early in the event, it was clearly established any cases involving the possession of marijuana would not be adopted by PCSO for prosecution. For all other controlled substances, the thresholds changed throughout the event. Conversely, threshold levels for federal prosecution were established well in advance of the event and provided in writing by the U.S. Attorney's Office."
Allen's already added four new officers to police the Burn. Smoke 'em while you got 'em.