5 Most Useful Multi-Tools on Amazon Right Now
Be the guy who is always prepared. Whether it's a Zombie attack or a beer that needs opening.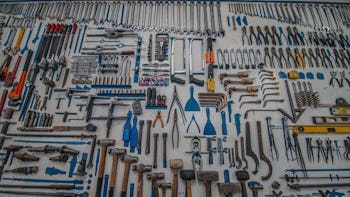 Unsplash / Cesar Carlevarino Aragon
Screwdriver? Check. Bottle opener? Yep. Knife? Uh huh. Scissors? Got it.
Okay, you are that guy. The one who pulls a handy tool out to save the day — or even just the moment — whenever someone less organized starts to flounder.
And how is that you are that guy? Because of your every day carry (EDC.) You know these moments will happen. You prepare for them by having a pocket knife in your pocket, a screwdriver and jumper cables in your car, and tools in an organized tool box.
Do you have a multi-tool? Long made famous by Leatherman, the multi-tool has come a long way. Small ones. Intense one. Expensive ones. Classy ones. Which one is you?
We found five of the best multi-tools available on Amazon to whet your appetite. Whether you want one for yourself or to spread your own be-prepared ethos far and wide, one of these will do it.
Gerber is known for it's excellent knives. This small, pocket-sized multi-tool is one of theirs. It sports 10 tools: Needle nose spring-loaded pliers, a wire cutter, a fine blade, a retail package opener, a pair of scissors, a flat screwdriver, a crosshead driver, a bottle opener, a pair of tweezers, and a nail file.
No one ever uses the nail file on these things but that's really the only unnecessary piece here and you might find it handy for picking locks or prying something open.
This multi-tool is gift-priced, too. Maybe there is someone in your life who could stand to be a little more prepared? This would be a great start.
Benchmade makes beautiful knives. People collect them. Police and firefighters swear by them. They are each a work of art. And this is the closest the legendary knife maker comes to in a multi-tool. It is a thing of simple beauty. And if you want an EDC that will fit in any pocket and never let you down, you could do a lot worse than this little beauty.
It's small, a little more than three inches long. But it is mighty. It has a sharp blade, pry edge, and a screwdriver point. It will clip into your pocket. And you can carry it in every state.
When your company name is synonymous with multi-tool it's because you make good ones. This one does everything. And it does them well. You might be able to walk through your day, fixing things, without every getting out a tool box if you keep one of these in your pocket.
It's 14 tools include a knife (obvi), pliers, a couple of screwdrivers, wire cutters, a wire stripper, scissors, a package opener, a bottle and can openers, a file, and — yep, even a ruler.
It'll be your Wingman!
This is a multi-tool of another sort. Intended to keep in a drawer, in your glove box, in your camping gear, fishing tackle, or any place where you might find you need some tools but don't have space for a tool box. I has a hammer, pliers, and a small ax as well as the usual multi-tool lineup of knife, screwdriver, nail file, and bottle opener. There is even a tiny saw in there.
It's all wrapped together in a wooden handle, is 7 inches long, and weighs less than a pound.
At this price, throw one everywhere you might encounter a need. You never know what will happen. But you will be prepared.
## Multi Tool Bracelet for Men
You are far too practical to wear jewelry just because you want to rock a Mad Max, bad ass look. But this bracelet is a multi tool making is so practical it's hard to not consider going all biker-on-the-road-to-the-apocalypse by adding it to your EDC ensemble.
It has 29 tools. There are wrenches, an assortment of flat and Phillips screwdrivers, a carbide glass breaker, a sim-card pick, a cutting hook, a bottle opener and more.
You might not be super fast at getting any of these tools off your wrist and available for use but you won't be caught without a tool. Not even if you wreck your motorcycle and have to take cover under an abandoned truck when being pursued by Zombies.