5 Highest Rated Pet Supplies for Dogs on Amazon
Being a pet parent is a major responsibility. In exchange for all that doggie love, we need to keep them happy and healthy. Make it easy with these Amazon must-haves.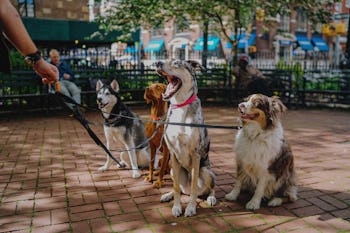 Unsplash / Matt Nelson
Dogs may be man's best friend but they're not a self-sufficient companion. If you're thinking about becoming a pet parent or want to make sure that you have the best supplies to care for your furry friend, you're going to want to check out these top-rated pet supplies from Amazon.
Waterpik Pet Wand Pro Dog Shower Attachment
Bath time can be a difficult process if your dog isn't the type that loves to be wet. Even worse, if your pup has a dense coat, it can feel almost impossible to make sure that they're getting a thorough cleaning. But the Waterpik Pet Wand Pro gives you the power of a professional groomer showerhead and acts as a simple attachment that you can connect to your existing shower or outdoor hose. The eight-foot hose offers increased flexibility to wash larger dogs and improved range of motion. The curved showerhead and comb-style spray allow for water to fully penetrate your dog's coat and guarantees that your dog gets a thorough bath!
AmazonBasics Single Door & Double Door Folding Metal Dog Crate
Whether you're bringing home a puppy or an older dog, any pet expert will tell you that crating your dog is one of the best things you can do. Dogs like to have their own space, and a roomy crate is a perfect way to let them have a place of their own within your home. This AmazonBasics dog crate is available in a range of sizes from 22 to 48 inches and can be purchased with a single or double set of doors for added convenience. Most importantly, the crate easily folds down, making it travel-friendly for road trips or if you're moving to a new place and need to squeeze it into your trunk or car. Go the extra mile and buy your pup a comfy bed pillow or blanket so that their crate is cozy and inviting!
ARK NATURALS Brushless Toothpaste
Just like people, your dog needs a little TLC for their teeth too. But not every dog wants you sticking your fingers—or a brush—in their mouth. While you can rely on professional veterinarian cleanings, this isn't realistic for daily life. Instead, try the Ark Naturals dental treats. As far as your pup knows, it's a tasty snack. But the dual-textured treat helps to remove tartar and plaque while also freshening breath. The outer shell features a rough texture that can clean teeth and the soft center includes a natural toothpaste made with cinnamon, alfalfa, vanilla, and cloves. So, no more doggie breath!
Unless you manage to find a hairless pet, dogs shed. Some shed more than others and depending on your home decor palette, this can end up being very visible or undetectable. Either way, one of the best ways to stay on top of shed hair and your pet's coat is to invest in this Pet Hair Remover Glove. No matter whether your pup has a thick or thin coat, long or short hair, this glove allows for you to gently groom your dog and remove knots without causing distress. Best of all, it captures shed hair while it's still on your dog, making it easy to discard. The soft rubber tips help to stimulate your dog's skin to produce healthy oils needed to keep their coat healthy and shiny. The glove can be used on wet or dry hair and is adjustable to fit a variety of hand sizes.
If you have to leave the house for work, it can leave you feeling guilty that poor Fido is home alone. But the Furbo dog camera allows you to keep in touch with your dog by providing a live stream that you can easily access from your mobile phone. The two-way audio lets you to interact with your pup, and it even features a treat tossing feature so that you can reward them for good behavior. The Furbo camera integrates seamlessly with Alexa. But even if you don't have a smart speaker, you can quickly set the camera up in your home with minimal effort and use their proprietary app to manage your settings and stay connected to your dog.