The Best Power Strips, Extension Cords and Surge Protectors on Amazon
Protect your devices with these surge protectors.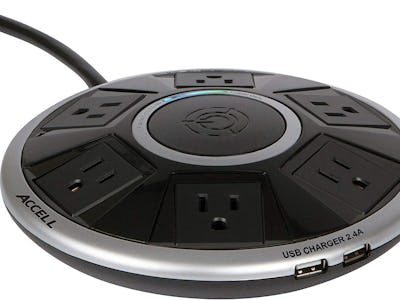 Amazon
The idea of shopping for a surge protector, power strip, or extension cords is hardly a fun one, but if you have to do it, you may as well go in knowing what to look out for. However, there's a good chance that whatever option you can find at the closest Walgreens or CVS will be suitable for you. All that said, if you want to take a look at some of the best options available, check out our list below.
APC 11-Outlet Surge Protector (P11VT3)
If you want to make your search for the best surge protector, then we'll make it quick. The APC 3020 Joule 11-Outlet Surge Protector is hands-down one of the best options available.
Depending on your needs, there are different variants of this particular item that will include additional ports. This specific surge protector offers up 11 outlets, all of which come with safety shutters. Five of these outlets run right down the middle of the setup, where the remaining 6 flank the outside, offering more space between one another for bigger power adapters.
The P11VT3 model also comes with coaxial and Telephone/DSL options for more protection.
Belkin 12-Outlet Power Strip Surge Protector
Right on the heels of the APC option above is Belkins 12 outlet power strip. It too ships with Telephone/DSL and Coaxial connections, but has a 3940 Joule rating and squeezes one more outlet in the middle.
The surge protector comes with an 8 foot cord, so it can clear the width of many rooms its in. Its AC plug is positioned at a right angle so it can be more flush to the wall.
If 12 outlets is a bit too unwieldy for you, there are other options with 8 and 7 outlets available.
Accell Powramid Air Surge Protector
If you're looking for a more simple surge protector, the Accell Powramid Air Surge Protector may be in order. It's circular in shape so it's less bulky, which can make it great for placing on a desk.
While hardly the most powerful on this list, this is a surge protector that fills a void and strikes a fine balance between protection and usability. It features 6 outlets that are widely spaced out for large adapters. It also features two USB-A surge protected ports so you can rest easy while charging your devices.
With 1080 joules of surge protection and a 6-foot long cable, the Accell Powramid is a well-rounded (pun-intended) option for anyone.