8 Incredible Pet Products on Amazon
Spoil your pet rotten with these great Amazon finds.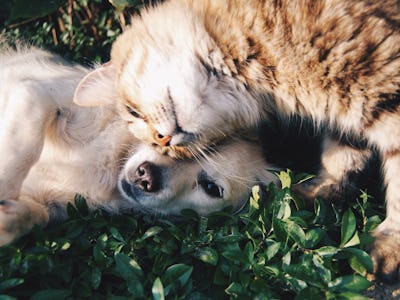 Unsplash / Krista Mangulsone
Your pet is a part of the family. As such, their needs are just as important as any member of your household. So if it's been a while since your pet has gotten a gift, you are planning for a birthday or you are just in the mood to give your pet something they'll love, you've come to the right place.
Below you'll find 8 of the most incredible pet products available on Amazon—though there's surely much more—so that your pet can continue living their absolute best life. We know you love your pet, but nothing says thinking about you like a gift your pet will use for years to come.
For The Cat—Or Small Dog—That Hates To Miss Out On The Action
Why We Picked It: This waterproof backpack has 9 holes for excellent breathability during any out-of-the-house adventure for your pet. Recommended for cats and small dogs 13 pounds and under, this airline approved backpack will allow your pet to stay safe without missing a beat. The order of every backpack includes a collapsible bowl.
For The Pet Who Often Gets The Zoomies
Why We Picked It: While it's often cats that get the most joy out of the laser game, dogs and puppies of all ages have been known to have fun with it as well. With this hands-free rotating laser toy, all you have to do is press a button and your pet can have 15 minutes of un-interrupted joy with their favorite toy. An entertained pet is a pet that's not being destructive with their excess energy.
For The Cat That Loves To Look Out The Window
Why We Picked It: If you don't have a big bay window, deep window sills or a convenient perch for your pet to look outside, this suction cup window perch is a great solution. It supports up to 60 pounds so if your cats are good sharers, they can use it together without fear of one of them falling and getting hurt. And if you rent, the suction cup option is great because it's easy to remove and leaves no damage.
For The Dog That Isn't Great At Leash Walking
Why We Picked It: Not all dogs are good at being on a leash. If your dog is a runner, a puller or a choker, this head collar will help your dog quit all of those bad behaviors. This is my personal must-have for any dog owner because it's made my life easier and I've seen it work on even the worst leash walkers. In short, you need the Gentle Leader if you're even considering it.
For The Aging—or Injured—Dog
Why We Picked It: If you've ever spent a night on the floor or an ill-supportive bed, you know the feeling of waking up with more aches and pains than you went to bed with. This machine washable dog bed from Sealy will bring your dog unmatched comfort that will instantly improve their quality of life. If you don't sleep on the floor—or a bad mattress—why should your pet?
For The Lazy—Or Elderly—Pet That Sill Likes To Get Out
Why We Picked It: Not all pets are good at leaving the house, and some are simply too old to walk on their own. In those cases, this pet stroller allows your pet and you to enjoy some time outside of the house together without fear of them getting too tired, overheating, running away or risking injury. This pet stroller is easy to fold and store with just one hand, has air filled tires for a smooth walk on many different kinds of terrain, a plush pad for keeping your pet comfy and a weather cover if there's a chance of rain.
For The Smallest House Pets
Why We Picked It: If your household includes more than just dogs and cats, this travel friendly fabric play pen enables you to bring your pets outdoors without risk of them getting lost. This play pen collapses and folds to a compact size for easy storage and it never requires any installation or assembly. All living things deserve their fair share of vitamin D and this is the safest—and most fun—way to provide it.
For The Pet That Doesn't Drink Enough Water
Why We Picked It: Stubborn cats and dogs sometimes refuse to drink the water we know they need. This water fountain entices your pet to drink more by providing a constant flow of moving filtered water. It's easy to clean thanks to the ceramic construction, which allows for it to be conveniently thrown in the dishwasher with your regular load.