The Best Rated Pet Cleaning Supplies on Amazon
Having a pet is a major responsibility—one of which is caring for them and keeping them clean. Make sure you ace pet parenting with these pet care must-haves.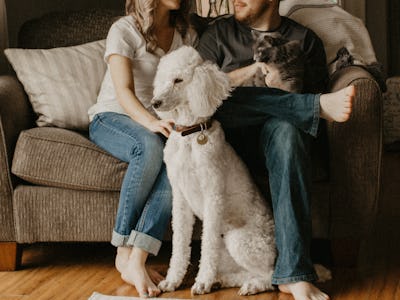 Unsplash / sarandy westfall
Did you know that more than half of American households own a pet? Officially the statistics show that 68% of households own at least one pet with the specific figures being 84.6 million homes—and rising. While the type of pet can vary, the most popular options are cats and dogs. And if you're a pet parent, you know that for all the joy those furry friends can bring, they can also come with some serious care requirements. Make sure you and your home are ready to give your furbaby the love and care that they need with these top-rated items on Amazon.
Angry Orange Pet Odor Eliminator
Even the best-trained pet can have an occasional accident. Whether you're in the process of house training a young pet or are caring for a senior furball that's struggling from incontinence, your home doesn't have to smell like accidents. Angry Orange's odor eliminator is naturally derived from orange peel oil but is strong enough to battle the strongest pet odors. Originally used by industrial facilities and boarding kennels, the formula was repackaged for consumers as a concentrate that must be diluted before using. In addition to using the odor eliminator on accident sites, you can also spray litter boxes, kennels or even outdoor spaces where your pooch frequently "goes" to help remove ammonia and methane odors.
Waterpik Pet Wand Pro Dog Shower Attachment
Depending on your pet's temperament, bath time is either a breeze or frustrating. What's more, if you choose to bathe your pup in the family shower, depending on your showerhead arrangement, this can be a struggle. Make life easier with this Waterpik shower attachment specifically designed for bathing your dog (and most likely cat too if they'll let you). The eight-foot hose gives you maximum maneuverability to bathe even the biggest dog. Meanwhile, the curved showerhead and comb spray ensures that water effectively penetrates even the thickest coats for a thorough cleaning. The Waterpik attachment is designed for indoor or outdoor use.
Even if you bathe your dog regularly, you're probably not doing so every day. And depending on how active Fido is, that means they can get pretty dirty between baths. Pogi's grooming wipes are a hypoallergenic way to keep your pup looking and smelling their best. The wipes are infused with aloe vera and Vitamin E to help give your dog's coat a healthy shine. Choose between unscented or a green tea scent. These sustainably made, bamboo fiber quilted wipes are also safe for use on cats.
Carrand Lint and Hair Removal Brush
Just like you don't want your home smelling like a litter box or wee wee pad, you don't want it looking like it's been overrun by animals. Pets shed, it's a natural part of life. But no one wants to sit on your furniture or in your car if they're going to get up looking like they rolled around in your pet's fur. Carrand's lint and hair removal brush helps to effectively clean soft surfaces. The electrostatic bristles naturally attract hair and lint yet are soft enough that they won't damage your upholstery.
ARK NATURALS Brushless Toothpaste
Any pet parent knows that good dental hygiene is an important part of caring for the furry members of your family. But knowing this, and effectively doing it are two different things. Not all dogs enjoy having their teeth brushed. However, that doesn't mean you should skip this important task. Make life easier and opt for these Ark Naturals brushless toothpaste chewies. The outer shell helps to abrasively clean teeth with its rough surface. The center features a soft toothpaste that fights plaque and tartar while freshening breath with the cinnamon, alfalfa, vanilla, and cloves.
Warren London Deep Cleaning Paw Fizz Tablets
Does your pup have a habit of annoyingly licking their paws? In addition to making them smell, this can also be a sign of an underlying fungus or infection. Warren London's deep cleaning paw fizz tablets help to effectively treat that problem thanks to the natural antifungal properties of its prime ingredient—tea tree oil. To use these tablets, simply drop them into the water and let fizz. Allow your pup to soak their feet in the water for five minutes while giving their paws a massage, then rinse and dry. These tablets also contain seaweed which helps to moisturize your dog's paws and strengthen their nails.
Premium Pet Dental Spray/Water Additive for Dogs Cats & Small Animals
It's a classic complaint, pets with bad breath. But beyond turning your head to avoid your pet's love, you can actually do something about it with this Premium Pet dental additive. The dental treatment can be used in one of two ways. Either spray the solution directly on your pet's gumline to help fight plaque and tartar buildup while also freshening breath. Or use it as a constant treatment by adding a few sprays into your pet's water bowl. The dental spray works for dogs, cats, and small animals.