The 6 Highest Rated Soundbars on Amazon
You love watching movies at home, but sometimes the audio playback is lacking. Instead of making do with what you've got, how about upgrading with these top-rated Amazon finds?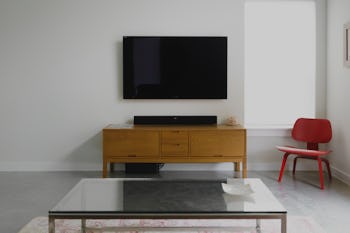 Unsplash / MILKOVÍ
Are you an audiophile? Are you always looking for ways to improve your listening experience when you play music or watch movies? If the answer is yes, then you're probably familiar with sound bar technology. The sleek and low profile speaker system is a great way to create a home entertainment system without taking up too much space or looking awkward and clunky. So, if you're ready to upgrade your entertainment room, you can't go wrong with these top-rated soundbars on Amazon.
Bose Solo 5 TV Soundbar Sound System
Bose really needs no introduction as the brand consistently raises the bar on audio clarity and playback. The Bose Solo 5 offers Bluetooth connectivity so you can easily connect to your smart speaker, smartphone or other devices for improved audio fidelity. Choose between digital and analog connections for quick setup with your television. Meanwhile, the universal remote that's included allows you to navigate your TV without juggling remotes.
VIZIO SB3821-C6 38-Inch 2.1 Channel Soundbar
VIZIO is yet another brand that's well known for its entertainment offerings. Their entry into the soundbar category comes with a wireless subwoofer for an immersive listening experience thanks to the enhanced bass. VIZIO promises 100 decibels of sound that won't compromise on quality or cause more than one-percent of harmonic distortion. This soundbar also features Bluetooth connectivity and also includes Dolby Digital decoding, DTS TruVolume, and DTS audio post-processing for an improved listening experience.
Polk Audio MagniFi Mini Home Theater Surround Soundbar
If you have nightmares of sound systems of years gone by that took up too much space and overwhelmed your family room, then the Polk Audio MagniFi mini home theater is the perfect solution. Low profile is the best way to describe this soundbar system. The compact system features 5.1 Dolby Digital coding as part of their proprietary SDA audio technology. And that means you'll experience a more immersive sound. Meanwhile the exclusive Voice Adjust Technology allows you to control voice levels and edit playback depending on whether you're watching movies, sports or television shows.
Nakamichi Shockwave Pro 7.1Ch DTS:X 600W 45-Inch Soundbar
Maybe you're a bit more old school and you want more than one speaker to give you that rich sound you desire. If this sounds like you, then the Nakamichi Shockwave Pro soundbar system is the option for you. Not only does this set come with the soundbar and remote, but an eight-inch subwoofer and two 2-way rear speakers for truly dynamic sound. And much like the other soundbar options, the Nakamichi sound bar includes Bluetooth connectivity for easy syncing and music playback. Best of all, you can optimize the audio with the push of a button. Fine tune the settings to create the best sound based on the square footage of your room—with three options ranging from 200 to 500-plus square feet.
Another well-known brand makes the list with Sonos. This mountable soundbar comes in a range of sizes and packaged accessories. Choose between the mountable bar by itself or opt for sets that include the subwoofer and speakers. By itself, the Sonos Playbar offers nine amplified speakers and Bluetooth technology for music streaming. But if you upgrade to the Playbar sets, the subwoofer and additional speakers provide enhanced bass and force cancellation so that you get robust sound without any annoying reverberation.
Samsung HW-M360/ZA 2.1 Channel 200 Watt Wireless Audio Soundbar
When you want the best in sound quality, you don't go with no-name brands. And Samsung is an electronics brand with a well-deserved reputation for superior products that deliver on their claims. The Samsung 2.1 Channel Bluetooth TV soundbar comes standard with a wireless subwoofer. The 2.1 channel surround sound provides crisp audio while the subwoofer offers depth with the bass. The one-touch button allows for easy Bluetooth sync so you can play music from any of your connected devices.