5 Men's Swimtrunks That Look Cool as Hell
Don't default on solid colors when there is so much more out there.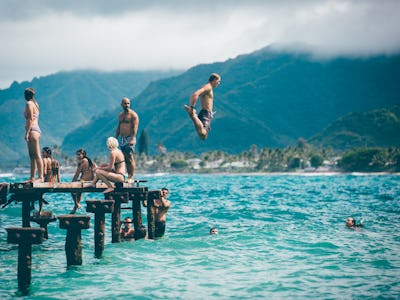 Unsplash / Jakob Owens
Like much of men's fashion, there just seems to be a lack of variety in swim trunks. If the men in my life are any indication, it seems like most of you own one ill-fitting bathing suit and you've probably owned for the better part of a decade. I'm here to tell you that's not how you have to live your life. You can have as much fun with your outfit selections as any woman and I'm here to point you in the right direction.
On this list, you'll find 5 swim trunks that'll inspire you to be more adventurous with your bathing suit selections this summer and in all future summers. There's a wealth of patterns, fabrics and silhouettes out there to bring you closer to your personal style. So go ahead, ditch your 10 year old swim trunks and opt for something a little bit more elevated.
For The Tie Dye Lover
Why We Picked It: This neutral take on tie dye is both stylish and fun. The elastic waistband and drawstring offer a close fit that won't suffocate or slip off of you at an inconvent time. Lightweight, breathable and quick drying, these swim trunks will keep you most comfortable during your day on the water.
For The Plant Dad
Why We Picked It: This delicious pattern speaks for itself. For a delicate take on foliage prints, these blue palm leaves scream style. Whether you are plant obsessed or you just this beautiful watercolor print, you can't go wrong with this suit. Tailored to perfection—at the mid thigh—these trunks feature side side pockets and a velcro back pocket.
For The Art Lover
Why We Picked It: Featuring costume antique nickel hardware, two ultra-deep double lined side pockets and a rare zip front fly and snap closure waistband, these swim trunks are pretty much quick drying shorts. Inspired by the classic chino, these graffiti patterned swim trunks bring black and white into a fun graffiti pattern that is stylish without being too much.
For The Guy Who Likes A Slightly Longer Hem
Why We Picked It: If you like solid colors, but have spent too many years wearing just one color, this pairing for these 3 fun colors will be a perfect match for you. Cut longer for a surfing aesthetic, these board shorts are quick drying, and have pockets galore.
For The Guy Who's Unafraid of Short Shorts
Why We Picked It: If you're not ready to let go of solid colors yet, you really can't go wrong with this army green swimsuit with this beautiful bird design. The elastic waistband with an adjustable drawstring aims to provide you a snug fit that won't go anywhere while the custom metal aglets provide necessary elevated style. Built-in internal mesh will keep you supported and comfortable throughout all your summer swim adventures.