7 Vintage Video Game Merch That Gives Us Feels
Take a trip back to your childhood when video games were so innocent you couldn't hit pause.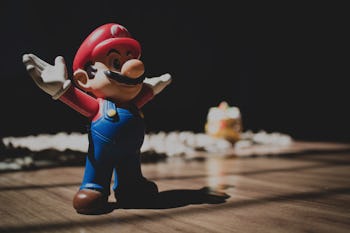 Unsplash / Cláudio Luiz Castro
They seemed so high tech at the time. But now they are charmingly old school with their adorable 8-bit characters, simple worlds, push button gaming, and old-world charm. Oh and remember how you had to explain to Mom how you couldn't come to dinner because there was no way to stop the game? Ah, the good old days.
Our culture is deeply immersed in the look and feel of these early efforts. Radical for the time and pushing the edge of the available technology, they transformed quickly leaving behind icons that have been turned into merchandise.
We rounded up the best, most usable, useful, and the silly of the vintage video game merch out there and present them here so you can beautify your domicile, improve your work life, and take a trip down memory lane any time you like.
Should you go into the house? Press Start to enter.
When your guests come to your house, they will know what they are getting: Nerd! Because you are giving them memories that they can wipe their feet on.
This doormat will take you back to your childhood and probably make you want to play a few games you haven't seen in a while. Meanwhile, the inside of your house is cleaner because people wiped their feet!
This wasn't really a game. But it should have been. This is the battle of Yavin, rendered as it it were an old-style pixelated video game.
It's retro gamer and Star Wars at the same time. So if that intersection describes you, you are going to need this shirt.
A box of nerdy Nintendo awesomeness all packaged up and shipped to your door. Zelda, Super Mario, Game Boy, and more. It's like one of those boxes of toys and treats people sign their dog up for and then pelt the world with cute puppy Instagrams. Except the toys are for nerds. And you are the nerd!
Were you a fan of the classic Spyro video game? Need a hat? A mug? More nerdy merch than you'll know what to do with? Of course you do. This sort of merch is hard to come by. And this is an entire box of the stuff in a cool crate.
Here are all your favorite Nintendo NES games back again! Only this time they are here for you to rest your adult beverages on so you and your drinking comrades can take a trip down memory lane. You know you played these games. But did they? Time to mix up some cocktails and find out.
How about this for vintage yumminess? These are patent drawings of early gaming devices. These are printed beautifully for you to frame and hang. So if you are tricking your crib out with a vintage nerd vibe, this will fit right in.
You don't have to be a little kid to have a great lunch box. This one looks like a Nintendo Classic Game Boy and you know you want it. You couldn't put that Game Boy down when you were a kid. And now that you are all grown up, you can bring your PB&J to work in this lunchbox that looks just like it. Embrace that little kid in you! He was having a good time.