7 Marvel Tees We Absolutely Love
Need more shirts in your drawer? Here are 7 amazing Marvel shirts you need.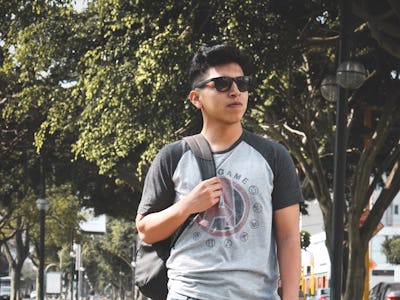 Unsplash / Jean Pierre Malvaceda
You have your heroes. I have mine. Everyone relates to heroism in their own way. One way — often expressed by the American nerd, in his natural habitat — is to express your hero worship by wearing your favorite hero's most heroic saying or meme on a shirt. This lets everyone you know what hero club you belong to.
Also? It's something to wear that isn't boring. It's something to wear that makes you laugh and reminds you of having fun.
You need some hero shirts! Even if you already have a drawer full of them, you can't have enough of these.
Here are 7 Marvel shirts that you will want to add to your collection.
You could mean lots of things by emblazoning Mutant and Proud on your chest. Whatever your particular form of mutancy is, celebrate it! Hail to your X-Men fellow-mutants or just accept that your own deviance from the norm is something you are proud of. Because who wants to be just like everyone else?
Clearly this is the shirt you wish you 'd gotten for Father's Day! But it's not too late. Now you can buy it for yourself. Because what is it you do? You guard your little one's galaxy from all harm! Being a dad, if you are doing it right, is a lot like being a super hero. In fact, for your kids, you are the original super hero!
Your girl would look good in this, right? Maybe you are her Captain Marvel? Or, you know, maybe not. It's okay if she digs Captain Marvel, too. He is a super hero, after all. That's fair. And you can make in-jokes together and generally get each other.
Let her know you like it when she gets her nerd on by gifting her this great shirt.
If she's not a fan of Captain Marvel, though, try this instead. It's sexier. It's romantic. It's got hearts but not in a unicorn way. She will love it. Even if Marvel is not her thing. Certainly invincible love is! And you will love her in it. Because your love is invincible!
You wear a t-shirt to the gym, right? Why not go for a bit of ironic hero worship while you work out? It's funny. It's fun. It's what nerds do when they decide to take a page from their hero and make physical fitness a life goal.
This might be the only fun you ever get to have at the gym. But also? You can still wear it even if you decide the gym, even ironically, is not fun.
Go for a run! Ride your bike! Take up sword fighting! These things are all physical fitness, too.
Sometimes you just need to state the obvious. You are, obviously, inevitable. You are standing right there. This would be a great tee to wear if you are collecting a debt from some punks or about to pummel someone who insulted your woman.
But it's also just great for work. Or to the gym. Or maybe to school. Or to your Mom's house. Because wherever you are, that's where you will be inevitable.
Sometimes you don't want to blare your hero worship by wearing a big, obvious sign. Something subtler. Something with a touch of beauty.
This. It has action, Kanji, Ronin, and a swoosh of ink. This is the tee to wear when you need to class up the place a bit but wearing a polo shirt or a button down would be too one percent for you.