These Are the Highest Rated Cat Toys on Amazon
Must-Have Toys Your Kitty Needs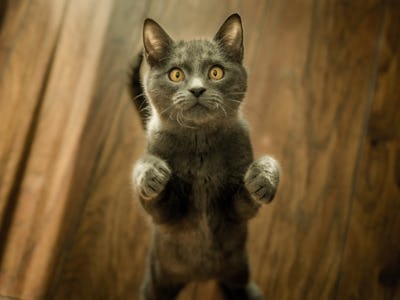 Unsplash / Marko Blažević
A bored kitty is a destructive kitty. Is yours attacking you in the night? Destroying the furniture? Do you wake up being stared down by feline resentment?
You can buy your way out of this. Kitty's love is for sale. And the price is not always canned food and salmon-flavored treats. Cats are predators. They need to chase things. They have brains and muscles that need exercise.
Here are 7 of the most highly rated cat toys out there. Bring one—or several—home for your feline roommate.
Toss one of these into the fray and kitty will track it down and kill it! It will run when swatted. And the feather is irresistible.
When not being chased around by your fierce feline, it won't look like junk on the floor, either. It's shiny and pretty!
They bounce, are soft in kitty's mouth, and are super fun to chase around the house.
There are four in the package.
Fishing for kitty is a great game and a sweet way to unwind and spend a little time with your cat. This fabric fishing rod has great movement and is satisfying to bite into. (For the cat, not you.) It might even improve your casting technique if fishing—for actual fish (don't tell kitty) is your thing.
Pro tip: Stick the handle end into the cushions of the couch so the fabric end dangles and kitty can play solo.
Now that cat fishing is your new favorite activity, maybe it's time to mix it up with some new lures?
This fishing rod comes with four interchangeable feathery lures. They are light and airy so they will get your cat jumping. This is not only great exercise for kitty, it's highly entertaining for you.
Leave these out on the coffee table and your visitors will pick one up, kitty will dash out from wherever she's hiding, and the game is on! Fun for everyone.
When she kills one of these birds beyond recognition, switch it out for another. You can even buy refills.
Every time I go to the pet store, I have to bring a [toy mouse](https://www.amazon.com/Chiwava-Rattle-Kitten-Interactive-Assorted/dp/B074V2V17M/ref=sr_1_15?keywords=cat+toys&qid=1561563975&s=gateway&sr=8-15 home for my kitty. If I forget… Well, he has claws. I don't.
Now I have 60 of them! I am so safe. I hand him one of these and he prefers to use his claws on it. He can lose it to his heart's content. There are more!
These are nice, furry, noise-making toy mice. And there are 60 of them in the box! As a reviewer on Amazon points out, there is also a bookmark in the package. But why? Maybe because now I will have time to read?
Obviously, every cat owner, especially if you have more than one cat, needs a box of these.
If you have a cat, you need a laser pointer. They are such good exercise for kitties that you might have to limit how much time you spend on it. Some cats take these so seriously, they will wear themselves out trying to catch it.
This one has three settings so it's useful even when kitty is down for a nap. The black light version will show pet stains in the carpet or on the furniture. And the white light setting turns it into a small flashlight, which is always handy to have at hand.
Do you have a cat fishing rod with a hook so you can change out the lure? Well, then make sure you pick up a package of these lures! They are the best.
They are squirmy and, even when not on a fishing rod, have amazing movement. Kitty will hunt it down and kill it—over and over again—even if you just toss it to him and don't bother with the fishing rod.
But when it's on the fishing rod? Even you will believe that thing is alive.
Tired of leaving empty boxes all over your house? This cat tunnel folds up small so you can store it when you want to clean up.
It offers kitty lots of places to hide, lie in wait to attack, sneak away, stash her toys, visit with friends, and do all the secret things that cats like to do in boxes.
And it's leopard print so everyone will know it's hers.