5 Vegan Products You Have to Try
Check out these extremely yummy finds on Amazon.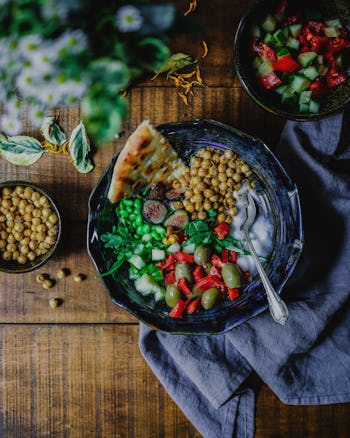 Unsplash / Edgar Castrejon
For whatever the reason, you've decided to leave animal-based foods behind and shift to a vegan diet. Good for you! But that doesn't mean that you can't enjoy some of the dishes or snacks that you used to eat. If you're making the transition or are looking for ways to kick up the flavor profile of your current menus, then you need to add these tasty finds to your Amazon cart.
Just because you're vegan doesn't mean you need to forego a breakfast classic. Whether you prefer waffles or pancakes, Enjoy Life's pancake and waffle mix is the perfect base to create your own breakfast combinations. The mix is not only vegan-friendly but is also gluten-free, non-GMO and doesn't contain any soy, nuts or dairy. Also, note that this Enjoy Life product offers a choice between the pancake and waffle mix or all-purpose baking flour.
Admit it, you miss Fig Newtons. Well, you no longer have to avoid them just because you're vegan. Nature's Bakery makes a tasty fig bar that's made with whole wheat. Unlike the well-known competitor, these fig bars don't contain high fructose corn syrup, soy, dairy or trans fat. Best of all, these vegan bars are also certified Kosher, non-GMO project certified and are made in a nut-free facility.
Going vegan can be hard if you were once a major meat eater. And while you can find great substitutes for common meats like burgers and chicken, meat-based snacks like jerky can be hard to replace. But Primal Spirit offers a great variety pack of vegan based jerky flavors. Available in a 12 or 24-pack options, you can choose between six popular flavors: Hickory Smoked, Teriyaki, Texas BBQ, Thai Peanut, Hot & Spicy–Sweet & Savory, and Mesquite Lime. Primal Spirit's vegan jerky is a plant protein-based snack that offers 10 grams of protein per serving.
We know, you miss Nutella. But you don't have to skip this guilty pleasure anymore. Nutiva offers a certified-organic, non-GMO vegan hazelnut spread that doesn't contain any dairy byproduct. Instead, it features cocoa, chia, and flaxseed for a healthier alternative. The spread is also gluten-free, making it a great option for not just vegans but vegetarians and those with strict diets that require dairy-free menu options. Nutiva's hazelnut spread is a great source of healthy Omega-3 fats and dietary fiber. Choose between their classic chocolate or dark chocolate flavors.
From the same people who brought you that pancake and waffle mix, you now can enjoy soft and chewy cookies in a variety of flavors. The Enjoy Life six-pack set includes 2 Double Chocolate Brownie, 2 Chocolate Chip, 1 Snickerdoodle, and 1 Gingerbread Spice. Each box has 12 cookies for a total of 72 cookies in this variety pack. These vegan cookies are also gluten-free, nut-free and are certified Kosher and Halal. Most importantly there's nothing artificial in these sweet treats. Instead, you'll find healthy ingredients like buckwheat, non-dairy cocoa butter, and rosemary extract.