Breathe Better at Home With These 5-Star Air Purifiers
Get rid of dust, pollen, and other pollutants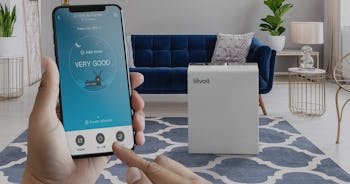 Amazon
There are a lot of reasons you might want an air purifier – if you have allergies, for instance, or live with a smoker.
Air purifiers are available in a range of sizes and prices, and you should select one that's big enough to clean the air in whatever room you expect to run it in the most.
Here are some other things to look for:
• HEPA filter – these filters trap fine particles such as dust mites, pollen, and pet danders as they clean the air.
• Prefilters or other filters – these trap bigger particles before they get to the HEPA filter, extending the life of the HEPA filter, which can be an expensive replacement.
• Noise level – if you're going to be in the room as the air purifier runs, look for a quiet unit.
• Dirt sensor – this feature senses how much dust and dirt is in the air and adjusts the fan speed based on that reading.
Other features that are nice to have include remote control, a timer, and automatic settings. Generally, the more an air purifier costs, the more likely it is to have extra features.
Because we believe in the wisdom of the crowd, we've found some highly rated units with more than 1,000 reviews on Amazon.
Three Fan Speeds
Why We Chose It The GermGuardian AC4825 is Energy-Star rated so you know it won't hog electricity even if you run it all the time. It's rated for rooms up to 167 square feet and has three fan speeds. In addition to the HEPA filter, which catches dust and allergens, a charcoal filter helps reduce odors.
Quiet Operation
Why We Chose it The Pure Zone air purifier operates at a noise level of just 30 dB, so you can enjoy the clean air in a quiet environment. The unit is rated for rooms up to 200 square feet and features a pre-filter, carbon filter, and HEPA filter for reducing multiple kinds of allergens. There's also an indicator showing when it's time to replace the filter.
Dirt and Sleep Sensors
Why We Chose It The Winix air purifier has a true HEPA filter and also has a washable AOC (that's for Advanced Odor Control, not the congresswoman) carbon filter that helps to remove odors in your home. It also uses PlasmaWave technology to break down pollutants without creating ozone. It's rated for up to 360 square feet, and it has four fan speeds plus a sleep mode that automatically lowers the fan speed and dims the indicator lights at night.
Control It With Your Phone
Why We Chose It This Levoit air purifier is a great choice for large rooms, and it'll filter the air in a 360-square-foot room more than 4 times in an hour. It has a true HEPA filter that cleans out pollen, smoke, and other pollutants in your home. It's also extremely quiet, only 27dB, and the timer allows you to set it to run anywhere from 1 to 12 hours at a time. The EnergyStar rating and smart filter-life monitor will help you save on operating costs.