Men's Bags That Look Cool as Hell
Because you need your stuff with you.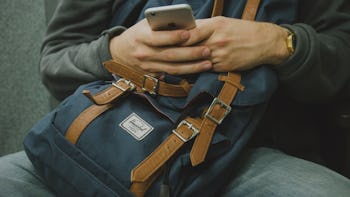 Unsplash / Josh Felise
The days of carrying a backpack just so you have a place to put your phone, keys, and wallet without destroying the pockets of your skinny jeans are over. Men carry bags. Any kind of bag they darn well please. It doesn't have to be one of four acceptable backpacks. It can be crossbody. It can be leather. It can be small. This does not make you less of a man.
So if you are done carrying a book and sweater you don't need just to justify that backpack, get in here. Because we found some man bags that look amazing. They will look amazing on you. And you will always have the crap with you that you need.
Born of camping gear. Evolved into something that will be your everyday carry, this bag is versatile. Wear it cross body. Clip it around your waste. Sling it over a shoulder.
Now you can carry a water bottle, phone, keys, sunglasses, and a few other things. No more losing your sunglasses because you set them down to use your hands. No more key pocket worn into your favorite pants.
Head out into your day armed. This comes in grey or black.
You know how cool bike messengers are? Their urban super-hero look has inspired more than one shift in male fashion. Their biggest influence on urban dress, though, is probably the messenger bag. And the bike-messenger messenger bag of choice is a much larger version of this minimal sling bag from Chrome Industries.
This has all the street tough durability and I-live-at-the-pointy-edge-of-being-about-to-die-under-a-bus rebellious attitude but none of the room for other people's stuff. Just yours. And you will have it all at hand when you want it.
Slick. And tough.
Leather, organization, and a simple crossbody style. If you are ready for a real, comfortable, tactile man bag, this one is just right to carry your necessaries and a small tablet.
It's not a giant messenger bag. And it isn't a sling bag. It's a small, messenger-style leather bag that will keep you organized and keep your Kindle (or whatever device you need) at hand all day long.
Also, we did some shopping to find a sweet leather bag at that price. You're welcome.
Handmade from a rich, cow's leather, this bag — from leather luggage makers Jack&Chris — will last forever and keep your tablet, wallet, keys, and all the rest of your EDC kit handy and ready to grab as you walk out the door.
Spending the entire day walking in the city? You can probably get an umbrella and a snack in here.
Not ready for a murse? How about a backpack that wears easier than that giant Jansport you have been carrying? This ID SMALL BACKPACK is the perfect size for a day in the city. You will have your headphones, rail pass, phone, a book, a tablet, and a water bottle handy with none of the hiking-through-the-Alps look you usually get from that backpack when you need to carry something.
It's stylish, European, and still a backpack. You can do this!