Pitchfork's Jessica Hopper Digs Aussie Zines and Top 40 Country: MEDIA DIET
The self-described punk lady of the Chicago suburbs tells us what's what.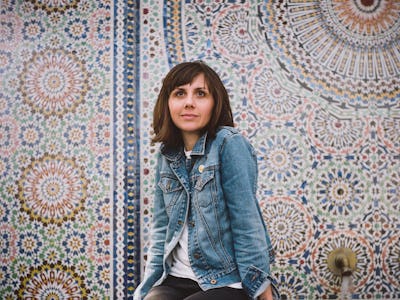 Jessica Hopper
Jessica Hopper is having a busy week. The mother of two is at work on the latest issue of The Pitchfork Review (as well as her other P4k duties) and has been promoting her book, The First Collection of Criticism by a Living Female Rock Critic. On top of all that, this tweet set off a firestorm:
Women writers and others replied with gusto. Hopper tells me that in one stretch she was getting 1,000 push notifications an hour. She's giving an address at Big Sound in Brisbane, Australia in a couple weeks and was looking for "other scopes of experience," she says. Her Twitter followers replied with that and some, posting tales of outsider woes — some of them just plain shocking. "I wasn't intending to do what I did, but I'm glad I did," she says. Because she's been a part of the news this week, her Twitter consumption has shot up. "It's kind of like having a small hobby, all of a sudden," she explains. Here's what else keeps her media plate full.
"I grew up in a household with a lot of magazine and newspaper subscriptions," Hopper says of her Minneapolis roots. Her mother was an editor at the daily paper and her father was a prosecuting attorney for the county: Newsmagazines were king in the Hopper home. "Growing up, I read U.S. News & World Report when it came in the mail every week," she says. "Part of what I do to regulate my day is: read the news." Because she didn't grow up reading magazines "for women," as she puts it, she sees things from a fairly wide purview. "My favorite magazine — other than the one that I work on — is GQ. And every time I read it, I just think, 'God, I wish there was a magazine for women that treated women with as much respect as this magazine treats its readers.'" She goes on say that she digs O, The Oprah Magazine's book section and will take a gander at Real Simple, from time to time.
Hopper was traveling last month and found a new appreciation for the way they do things Down Under. "Australia magazine stores are a fantasy land. It's kind of a throwback to 20 years ago — or more — in American magazines," she says. "I picked up this magazine that, I think, is the best single-issue magazine I've read in a really long time. It's called Dumbo Feather." The executive director of the Equal Justice Initiative, Bryan Stevenson, graced the cover and the issue featured stories from a bevy of "do-gooders," as Hopper sees it. "It has a really positive, really deep sensitivity to it. I was crying on my Qantas flight," she says. When she arrived home, she subscribed.
One of the perks of working on The Pitchfork Review — Pitchfork's quarterly print publication — is that it trades subscriptions with other journals and mags. Hopper has become particularly enamored with Fathers, a Polish quarterly. She's had the dad-centric publication on her nightstand of late, along with William Finnegan's Barbarian Days and the galley for Carrie Brownstein's memoir. Hopper isn't done with Australia yet. She also gives daps to Melbourne's Sticky, where you can make your own zine in front of an old train station and then sell it. She picked up a satirical fanzine about feminist pugs, which she says is, "a Venn diagram of all of my wants out of a comic intersecting."
Hopper is on a "TV diet" as she braces for fall shows. A revelation nudged her to slow her tube time. "I recently moved pretty close to Lake Michigan," she says of her new Chicagoland residence. "I went and caught the last little hair of the sunset and was like, 'Oh my God, I'm an idiot.' I've been watching not-even-good TV." She goes on, "After I finished the last season of Key & Peele, what do I actually give a shit about? Nothing is gonna satisfy me in the same way, so fuck it."
"I fucking love movies," Hopper says, with a caveat. "I've seen less movies this year than any year in my life." Because of her kids, the best chance she gets to see flicks is on book tour, where she just ends up seeing "what's in the theater" without much planning. She laments that the theater near her home has showtimes that are usually around 1 and 7 — they don't work. She says, though, that she will probably see Straight Out of Compton this week.
The new joint is outside of town. "I moved to the suburbs and it's pretty dope. I fully did it," she says from Pitchfork's offices. "I am the totally weird punk lady living in the suburbs. Perhaps to the horror of my neighbors." But, work is downtown in Chicago, so it affords Hopper a 40-minute commute filled with radio and podcasts. She checks off The NY Times Popcast and few others before getting to the heart of the matter: The Splendid Table. "It's hosted by this lady who laughs when she talks," Hopper says. "Somebody will be like, 'What do I cook for this special occasion? At my house I have two lemon trees in the back.' And the lady is like, (cackling laughter) 'Lemons, I love it. What won't you cook with the lemons!?'" Then Hopper puts on 99.5 FM, Chicago's Top 40 country station, and gets "her feelings out with Carrie Underwood anthems. I don't know fucking why." Because that's an awesome way to end an interview, that's why.