Upgrade Your Lounging This Summer With One of These Great Chairs
Want to up your relaxation game? Try one of these chairs.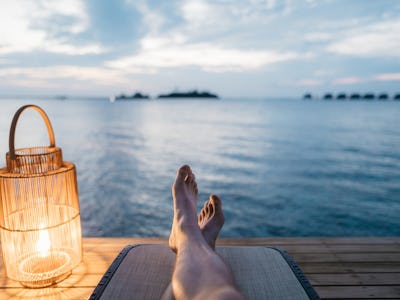 Unsplash
'Tis the season, folks—for lounging that is. And We know you've made extensive plans for summertime relaxation. And who can blame you? What could be better after a long day than relaxing with a cold one looking out over your well-manicured lawn? Ok, maybe the well-manicured lawn is pushing it but you get the picture.
If you don't have any extensive plans for lounging maybe you just need the right chair. Lucky for you we've done some digging and found some great lounge chairs to help make your plans a reality.
The sunshade recliner checks off quite a few boxes for lounging chairs. The built-in sunshade protects you from the damaging effects of the sun, it also comes with a carry bag so your lounge chair can go wherever you go.
Sling Recliner Rocking Chair by Blue Ridge Chair
The sling recliner is an outdoor recliner - and it rocks. It sounds like this chair gives you a little bit of everything. Not only is it multi-purpose, but it's also easy to use, fold and store away. The sling recliner addresses all of the usual concerns for outdoor furniture and will hold up for years to come. It's made with durable ash wood and the slings are made with fade resistant polyester.
Algoma Net Cushioned Hanging Chair
Algoma net hanging chair takes lounging to new heights. This lounge chair can hang from trees, porches or patios and has a weight capacity of 275 lbs. The Algoma hanging chair is made with weather-resistant fabric, mildew resistant polyester rope and its foam filled for superior comfort.
Frankford Oak Beach Chair with Detachable Legrest
If you're looking to take the show on the road and hit the beach you may want to consider the Frankford oak beach chair. Finished with marine varnish the Frankford oak beach lounger will stand and up to the effects of the tough ocean air. The Frankford oak comes with a detachable footrest so when you want to kick your lounging into high gear you have everything you need to do so.
Lounge Lizard Lounger by TravelChair
The lizard lounger gives you the ability to take a chaise lounger wherever you go. The lizard loungers use lightweight, synthetic fabric and the end result is a breathable and weather resistant lounger.