What's Next for 'Mr. Robot' After Season Finale Delay
Brief thoughts on the 'Mr. Robot' finale delay.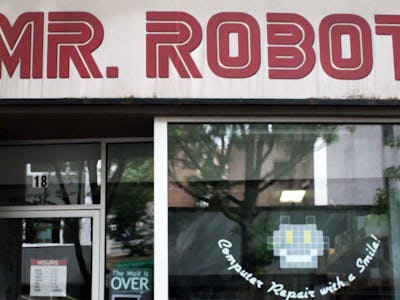 USA Network
Yesterday a tragedy occurred when a gunman shot and killed two members of the Virginia television station WDBJ-7 during a morning broadcast. An outpouring of grief came out quickly from those that lost their lives, and just as swift there was commentary about where guns exist in American society. A familiar tango of honoring someone in death, but for those that feel strongly about guns America it was also a time to speak-up while emotions were high.
But for the USA Network and the show Mr. Robot it was time to retreat. The buzzing TV show's finale was supposed to air yesterday, but because of the shooting USA pulled the show saying "Out of respect to the victims, their families and colleagues, and our viewers, we are postponing tonight's episode. Our thoughts go out to all those affected during this difficult time."
In light of the events, it was an appropriate decision to make for the network. But it'll make next week's viewing of the show unnerving to say the least. There was an intense backlash on social media of showing this particular video of a shooting in any form, but people still saw it — personally I've only seen stills and have not sought the raw footage. Now the viewing of the show, at least in the upcoming few months, will not be able to be separated from the shooting that occurred on its original air date. Andy Greenwald gave a few tweets on the matter having already seen the finale:
Mr. Robot is a pretty dark show that juggles between death, corruption and manipulation with an almost evil gleefulness. And it's a show that hasn't been afraid to go strange places and get in the heads of mentally unstable characters and allow the audience to follow. Even though as a fan I'm excited to see the series end, there is a certainly a bit of unease involved with where the show might go. The show's second season is already approved and shooting, so perhaps this won't effect the show in the long run, but it's certainly something to think about as its subject matter that's pulled from IRL headlines runs too close to events of reality.