5 Slip-on Shoes That Will Transform Your Wardrobe
Upgrade your wardrobe and increase its versatility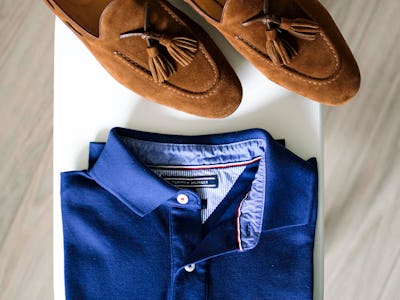 Unsplash / Jeroen den Otter
Depending on the shoes you wear, you can completely change the style of your outfit. The right sneakers, moccasins or dress shoes can transition you from business casual to a relaxed weekend on the coast. If your shoe collection is starting to look a little rundown, you might want to consider incorporating these Huckberry finds.
The boat shoe gets an upgrade with this modern twist on a classic style. In addition to being a fashion-forward option, this shoe is designed entirely with your comfort in mind. An ultra-soft sheepskin inner sole and terry cloth lining baby your feet while the canvas outer-shell and cotton piping trim create a sleek finish. The structured sole completes the look with decorative trim throughout. Available in Marine (blue) and Noir (black), you'll want to make these your go-to weekend shoe.
Leather has never been so chic! The Sabah Slip-on offers a soft leather upper, cut from premium cowhide. The shoes are handcrafted in Turkey by master cobblers who have been creating shoes since the 1800s. For added durability, the shoe features rubber soles for the best grip. And most importantly, those shoes are resoleable. So you can keep these in rotation until you get tired of wearing them.
Suede isn't just for weekend brunch. Step up your office attire with this supple handmade Italian leather slip-on loafer. Most importantly, eco-conscious shoppers can feel at ease as the leather is processed using all natural ingredients for a greener experience. The lightweight construction and rubber sole guarantee a cozy fit making them perfect for all-day wear.
If you're too old to be standing in line for hours on end to buy a pair of sneakers that everyone and their mother will be wearing, then you're going to love this sophisticated alternative. First, this is a truly slip-on sneaker that's been pre-laced. So, no more stopping to re-tie your shoe. But this shoe is more than just fashionable, it's also vegan-friendly. For increased comfort, the Nohea Moku slip-on is meant to be worn without socks. The footbed is removable and washable to prevent odor buildup. And the rubber sole is designed with razor sipping for improved grip on wet surfaces.
Sneakers might be a popular go-to footwear choice, but yours shouldn't look common. This shoe has become a best-seller on Huckberry for good reason. First, socially conscious shoppers will appreciate the PETA-approved vegan construction. The entire upper is crafted from a single piece of microfiber and perforated for a lightweight shoe with improved breathability. The soft polyester lining improves comfort while rubber toe and heel inserts increase stability and grip. And the EVA sole provides shock absorption to ensure that you never stop moving.