Save This Summer by Going Solar!
Let "Pick My Solar" pick your solar options.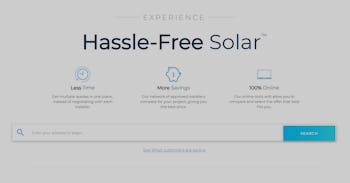 Pick My Solar
There's a common misconception that getting solar panels, or "going solar" is reserved only for wealthy people, but that's simply untrue. It's for smart people. The idea may sound like an expensive investment due to the upfront costs of purchasing and installing the panels to your house, but it really is an investment that will eventually pay itself from the energy savings you receive going forward. And while there are literally countless places that guarantee transparency and the "best deal" rarely do they live up to the promise or hype. That's where Pick My Solar comes in, allowing you to find the right place to take your business.
Pick My Solar gets rid of the hassle of reaching out to several individual installers and offers up quotes for multiple competing companies to provide solar installation services. Its specialized network of qualified professionals compete for your business (not the other way around) so you know you're getting a great value, which is very important for this type of investment. They're so confident that the systems installed will generate 95% of the kilowatt-hours agreed upon before installation, that if it doesn't after a 12-month period, you'll be refunded the difference in kWh, multiplied by a predetermined rate based on the customer's utility electricity pricing. That's their TriGuard Guarantee.
This is a service that's also takes an educational approach, and they want you to learn about each step of the process so you're not left in the dark (literally). With a comprehensive informational section on their website, you're offered up educational materials such a solar panel start guides, info on the best solar panels, solar panel cost, financing guides, and videos. Moreover, they even offer up live video streams every friday discussing different aspects of the solar industry, so you stay informed.
If you think now's the time to take the plunge into the world of solar, Pick My Solar is a fantastic place to start your journey.