Must-Have Athletic Wear for Summer Leisure and Exercise
For a life on-the-go, you want to be as comfy as possible.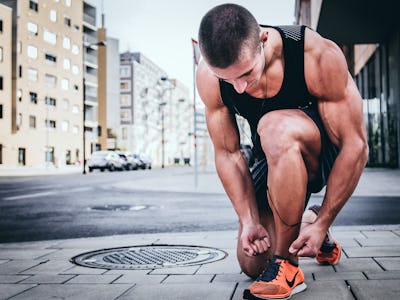 Unsplash / Alexander Redl
I work from home and more often than not, I'm wearing athletic wear. And I'm not unique in this right. There's a stigma attached to wearing sweatpants or pajamas that simply doesn't come with wearing leggings, a sports bra and running shoes. Why? People usually assume you have worked out or are on your way to working out. Sweatpants on the other hand leave people of the assumption that you're sick, tired or some other word that seems to translate to "unmotivated."
That's a big cross to bear, especially if you're just trying to relax. So, if you, like me, default to wearing athletic wear any time you don't actually feel like crafting an outfit, this is a list for you. Prioritizing comfort when it comes to your life on the go, you can't go wrong with any of these incredible items—or you could buy them all and have your new favorite day-off outfit.
Why We Picked It: Imagine not having to tie your shoes, search for socks you like or wear shoes that hurt your feet. Sounds like a dream, right? On Running's Cloud running sneakers will have you feeling like youre on cloud 9 thanks to their proprietary CloudTec® outsole structure that provides unwavering support in a light shoe that won't weight you down. The dual-density sock liner allows for a breathable construction that you don't even have to pair socks with.
Why We Picked It: Whether you are going on a run or just running errands, these On Running Running Pants will move with you unlike any other. Four-way stretch eliminates any and all restriction you might feel in jeans, compression shorts and other kinds of pants, while the secondary ankle zip and ventilation slits promotes airflow up your leg to keep you cool in any weather. The built-in UV protection and water resistance feature is a fringe benefit of these great pants.
Why We Picked It: There are few things worse than putting on your favorite hoodie and feeling like you're wearing a burlap sack. This On Running Hoodie has everything you love about your favorite hoodie, but is instead cut to have a more flattering fit and eliminate an overly baggy look. While this hoodie has everything you want in a hoodie, it also goes the extra mile. Made from a soft blend of polyester, lyocell and elastane, this hoodie will keep you warm without overheating.
Why We Picked It: What makes one t-shirt different from another? They're cut with a scoop, crew or v-neck and they have sleeves. That's it, right? Usually, yes, but when it comes to this On Running Comfort T, you're not just putting on a t-shirt. Crafted from a luxurious blend of cotton, modal and elastane woven together for maximum breathability and comfort that also eliminates odors that come with running around.